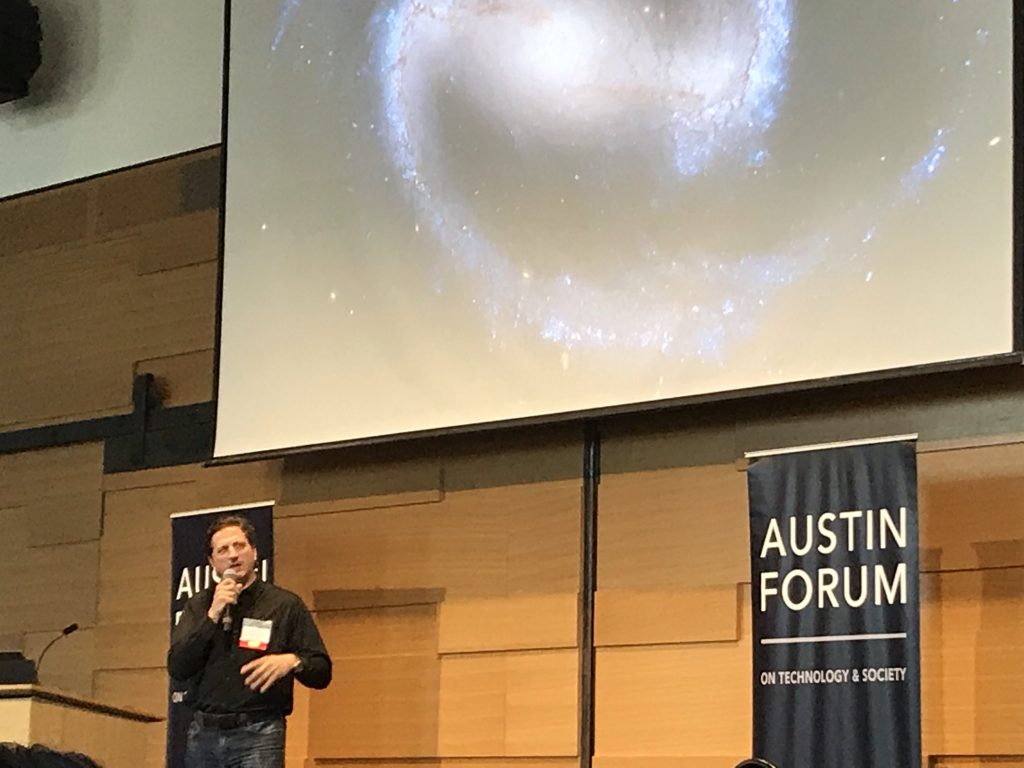 Firefly Aerospace has been on one wild ride to get its rockets built in Texas.
"We have been building for the last several years and we're going to fly our first rocket in the next six months," said Tom Markusic, Firefly's founder and CEO.
But the road to the launch pad and has been a rough one.
Firefly Aerospace and its predecessor, Firefly Space Systems, collectively have spent $110 million so far, and the company hasn't even had a Series A round of venture capital funding yet, Markusic said. He spoke Tuesday night at an Austin Forum event on Technology, Space and Humanity at the Austin Central Library downtown. More than 300 people turned out for the free event to hear presentations from Markusic and Rick Tumlinson, founding partner of SpaceFund, a venture capital firm focused on the space industry.
Tumlinson gave an overview of what he and Markusic refer to as New Space, a commercial effort to launch rockets, ferry payloads and people and eventually help to colonize Mars.
Tumlinson mentioned efforts by billionaires behind the new ventures creating space rockets. Two of them already have operations in Texas. Jeff Bezos, founder and CEO of Amazon, has a suborbital launch facility located in West Texas, near the town of Van Horn. Blue Origin, founded in 2000, is developing a variety of rocket-powered vertical takeoff and vertical landing space vehicles.
Elon Musk's SpaceX has developed a test launch facility in South Texas in Boca Chica. It's developing its Starship rocket to take people to Mars there, according to a Business Insider article.
Richard Branson's Virgin Galactic is also developing rockets.
And in Cedar Park, north of Austin, Firefly Aerospace's Markusic is developing launch vehicles and spaceships. It also landed a contract with NASA in November of 2018 to provide lunar payload services.
And Markusic, who worked at NASA and the United States Air Force, before joining SpaceX and then Blue Origin and Galactic, has worked hard to make sure Firefly Aerospace will be one of the major players in New Space.
The main goals of New Space are to lower costs and provide easier access to space, Markusic said.
Firefly Aerospace focuses on designing, building, testing and breaking things fast and rebuilding and retesting fast, Markusic said.
"There is no fear of breaking things if iteration is fast," he said. "There is no fear of failure."
Markusic calls Firefly the "SpaceX of small to medium launch market."
Firefly's long-term vision is to build reusable rockets that launch from runways with airline like operations. NASA led the way with the Apollo 11 mission 50 years ago, which landed Astronaut Neil Armstrong and Astronaut Buzz Aldrin on the moon. Now the New Space companies want to build on that legacy to help the U.S. return to the moon and eventually Mars.
New Space will be a $2.7 trillion industry by 2045, Markusic said.
"This is going to touch all of our lives – this access to space – the things that are going on in the lower-earth orbit will affect our lives in profound ways," Markusic said. "You can think of New Space as the next frontier of the information revolution. That's where the big gains are going to be made."
In 2013, Markusic saw an opportunity for small space satellites and quit Virgin Galactic to found Firefly Space Systems with the vision to provide the world's most economical and convenient small satellite launch services. But that first version of Firefly encountered some problems. And on Sept. 29th of 2016, the company furloughed its workers. It ended up bringing them back on Oct. 31st but had to shut down again on Dec. 1st, 2016 and file for bankruptcy.
But six months later, Firefly Aerospace returned and started the company back up. On May 17, 2018, the company had a successful engine test.
Firefly Aerospace has raised about $70 million in the last two years, Markusic said. Firefly also announced plans for a new launch facility in Cape Canaveral, Florida.