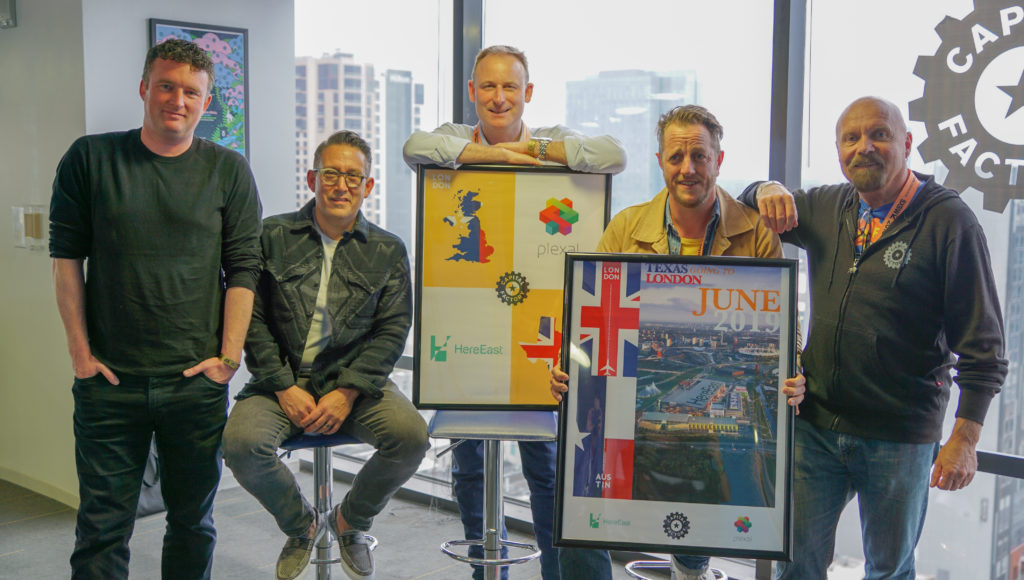 The London and Austin technology ecosystems have developed a strong relationship during the last decade.
And on Wednesday, Capital Factory, a technology accelerator in downtown Austin, officially announced it has joined forces with Plexal, an innovation center that sits within London's Here East technology campus.
The deal came together following meetings last March at South by Southwest and in June during London Technology Week. As a result, Here East's Chief Operating Officer Michael Magan, and Plexal's Managing Director Andrew Roughan signed an agreement with Capital Factory's Director of International Affairs Fred Schmidt.
In Austin, Andy Jones, a London native who runs Marvelous Events in Austin and Schmidt will help U.K. and Texas companies seeking to do business with each other. Capital Factory members will have a hot desk at Here East and they will get to work out of there while overseas. And the same is true for members of Here East and Plexal when they come to Austin or Dallas. They get to work out of Capital Factory's facilities in either city.
"We can help make this affordable," Jones said, making it easier for companies to do business overseas. The two working together can help startups find inexpensive housing, find mentors and develop other relationships to expand into a new market, he said.
Schmidt has been courting the relationship with the U.K. since 2012 and a trade mission which led to a sister city relationship with the London Borough of Hackney where Here East is located.
Here East is a technology redevelopment project from the 2012 London Olympics. It has 1.2 million square feet of space in three buildings in East London. Today, it has more than 3,000 tech, creative, science and academic professionals with plans to grow to 5,000. Its tenants include the Plexal accelerator, BT Sports, Ford Motor Company, Loughborough University, City College London, and The Gantry creative studios.
Capital Factory and Here East will work together in programs in areas such as cybersecurity and defense, mobility, diversity and inclusion, education, health, and AR/VR, according to a news release.
Plexal and Capital Factory are also focused on corporate partners, Schmidt said. They can introduce tech startups to established companies for partnerships and customer relationships, he said.
Among the startups that could benefit from the relationship is Senseye, a four-year-old startup with 26 employees, that has customers in the United Kingdom. Senseye, which is part of the Capital Factory accelerator, works with Lloyds of London to evaluate employees for safety risks in the marine industry, said David Zakariaie, Senseye's founder and CEO. Senseye has raised $4 million in seed stage capital to date and moved from Capital Factory to larger offices at Eighth and Congress.
About 75 percent of the accidents that happen in the marine industry have all been because of human error, Zakariaie said. Senseye's high tech system scans a person's iris to check if they are stressed, impaired by alcohol or drugs or fatigued. If they are, they get a red light that doesn't allow them to work that day, Zakariaie.
"It's essentially a platform to mitigate for the human element of the risk," he said.
With the new agreement between Capital Factory and Plexal, Senseye has an office now in the Here East technology campus, Schmidt said. And that's the focus of the relationship to make it easy for Austin companies to set up shop in the U.K. and enter the European market for U.K. companies to have a desk at Capital Factory and entry into the Austin, Dallas, Texas and U.S. market, he said.
Already, 80 U.K. companies have a presence in Austin and about 40 to 50 Austin-based companies have a presence in the U.K., said Haileigh Meyers, with the U.K. Department of International Trade. Meyers has an office at Capital Factory.
Working together makes sense, Schmidt said. Texas, overall, is the world's 10th largest Gross Domestic Product, or GDP, economy in the world and the U.K. is the 5th largest economy. Combined, they represent the third largest global economy, he said.
The key for U.K. startups is having a point of contact in Austin, Dallas and Texas overall to start building relationships, Schmidt said.
"We try to make very qualified and useful introductions to people that hopefully will be lasting and result in success," Schmidt said.
Collaboration between the two ecosystems make both economies stronger, said Maia Donohue with 3 Day Startup.
3 Day Startup, which is based at Capital Factory, has done more than 20 programs in the U.K. with Queen Mary University of London, University of Edinburgh, Donohue said. 3 Day Startup is holding its fifth annual Global Roundup Conference this week at Capital Factory and will be hosting several entrepreneurs from the U.K., Donohue said.
Developing long-term relationships is essential, he said.
There are subtle differences in doing business in each country that can make or break a deal, Donohue said.
3 Day Startup and Capital Factory also brought in student groups from Hackney Community College to solve problems for British Airways, RetailMeNot and Adobe Systems and present them onstage at Hackney House at South by Southwest, Schmidt said.
And Schmidt said no matter what happens with Brexit, which refers to the British Exit from the European Union, Capital Factory will continue to cultivate its relationship with the U.K. Capital Factory is also in active discussions with other countries within the European Union to set up a relationship similar to the one it has with Here East, Schmidt said.
"As far as I'm concerned, it's full speed ahead, business as usual," Schmidt said.