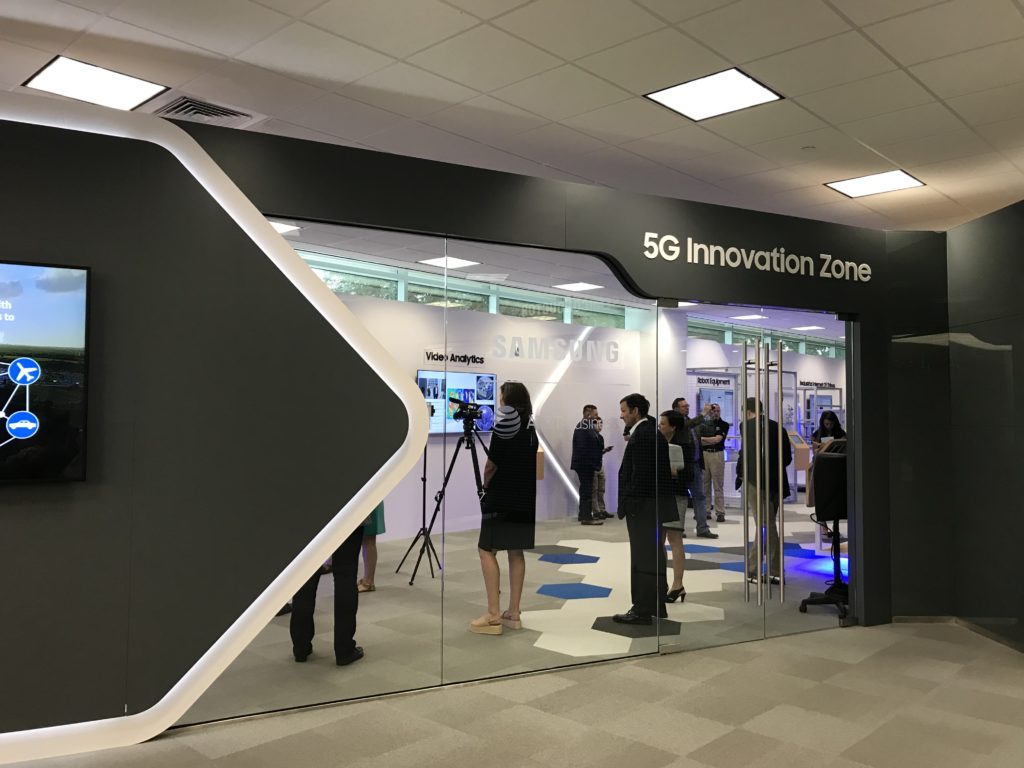 By LAURA LOREK, publisher of Silicon Hills News
To see the impact of 5G communications, look no further than the new 5G Innovation Zone which officially opened at Samsung's Austin campus Friday.
The Innovation Zone showcases different applications of 5G technology including health and environmental sensors, automated material handling, industrial Internet of Things, robotics, and mixed reality for training.
The Innovation Zone is designed to leverage a combination of multiple connectivity technologies, including 5G, LTE, and Wi-Fi, according to AT&T.
"I just love being in this space," said Austin Mayor Steve Adler. "You walk into this space and you feel exciting things are happening and you know that they are."
Austin is on the leading edge of driving new technologies and it owes that to companies like Samsung and AT&T who are such a big part of who we are, Mayor Adler said. It's really exciting to know Austin plays a vital part in the 5G movement, which is the direction of the future, he said.
The 5G technology allows us to have cities that are smarter, Mayor Adler said. "And it allows us to accumulate and use data in ways that we have never done before." That data will help identify trends and opportunities, he said.
"The fact that so much of that is happening in Austin, Texas feels appropriate and it's just the right thing to do," Mayor Adler said. "This is Austin, Texas, we are innovative and entrepreneurial and on the cutting edge."
Gil Heyun Choi, president of Samsung Austin Semiconductor, welcomed the group of community and city leaders, Samsung and AT&T employees, media and other dignitaries to the ribbon-cutting event. Samsung, which set up shop in Austin in 1996, has nearly 3,000 employees at the site, which manufactures computer chips for phones and other communication devices. The Austin plant is the only one Samsung, based in Seoul, South Korea, operates outside of Korea.
To understand the impact of the current technology, it's important to look at the past, said Mo Katibeh, chief marketing officer, AT&T Business.
The first power plant providing electricity in America was turned on Sept. 4, 1884, on Pearl Street in Manhattan, New York, Katibeh said. From that auspicious beginning, the electrical revolution was born. It transformed every single industry and led to new ways of thinking about healthcare and manufacturing, he said. 5G is the same kind of transformative technology, Katibeh said.
5G technology brings unparallel speeds about 100 times faster than the average LTE connection, Katibeh said. It also allows for the processing of information as quickly as the human brain, he said.
"That means we can now create experiences that mirror the reality that we all perceive," Katibeh said.
And 5G allows people to connect millions of devices, he said.
Soon, all companies will be 5G enabled, said Alok Shah, Vice President, Samsung Networks Strategy at Samsung Electronics America. This combination of very high speeds and instant communications will transform the way companies get business done, he said.
"We are here to open the Innovation Zone, another way to think of it is it is really a window into the industry transformation that we know is coming," Shah said.
This facility is home to the world's most advanced fabrication facility, known as a fab, said Jon Taylor, Vice President, Austin Semiconductor. It's been in operation for more than 23 years, and has continually expanded into new areas, he said.
"Today marks the beginning of a new way of thinking about the future of manufacturing," Taylor said.
5G is not available to most consumers today but is expected to be widely available in a number of cities by the end of the year as it is deployed throughout the country, said John M. Godfrey, senior vice president of public policy for Samsung Electronics America.
5G, the fifth-generation cellular technology, has been deployed in parts of Austin, and is available around the University of Texas at Austin campus, said Katibeh with AT&T. It also rolled out in parts of San Antonio late last year.
In Austin, the City has been slow to approve the small cell permits needed to create the network across the city. The small cells that transmit the 5G signals are about as big as a backpack and attach to existing poles and infrastructure.
"Unfortunately, Austin is still much further behind in the small cell permitting process when compared to other major urban areas," Tracy King, vice president of public affairs for AT&T Texas, said in a written statement. "We look forward to working with them to ensure the process is as efficient as possible."
AT&T and Samsung partnered on the new 5G Innovation Zone last September and since then they've been working together to build out the use cases and construct the facility, said Shah, Vice President, Samsung Networks Strategy at Samsung Electronics America.
All these test cases are possibilities of things we could deploy, Taylor said. There are other things that will be under consideration as the technology is deployed, he said.
5G technology combined with Augmented Reality will create an entirely new way of thinking about work, said Katibeh with AT&T. It could create a marketplace of skills and retirees could consult for companies via mobile video communications without ever leaving their home, he said. It's part of the evolving nature of work as new technologies are introduced, they change the way we do things, he said.
Samsung creates the chips that power smartphones and tablets that run on the 5G network and it also makes infrastructure equipment like antennas that transmit the 5G network throughout communities. Samsung conducted tours of its fabrication facility following the ribbon cutting on the Innovation Zone.
"We are really excited about this opening, this is just the first step in our journey," said Shah, Vice President, Samsung Networks Strategy at Samsung Electronics America. "5G is going to transform businesses, all kinds of businesses, and certainly manufacturing."
Samsung's fabrication plant is one of the largest in the world. Its plant includes 350,000 square feet of Class 100 cleanroom space. From the catwalk, a glass window provides a glimpse inside the massive clean room where the automated material handling system delivers 4.2 million wafers daily, the equivalent of delivering 3.2 million pizzas every day.
When Samsung opened its plant in 1996, humans did 100 percent of the work. Today, 98 percent is automated and handled by robots and Samsung is working to automate the last two percent through new technology like 5G. The plant currently runs on Wi-Fi. A handful of Samsung employees, dressed in white head to toe bunny suits with breathing apparatuses, oversee all the plant's activity from computer terminals on the plant floor. They act as air traffic controllers making sure the robots perform their jobs accurately and on time. Every few seconds, something is getting picked up and dropped off. Chips spend 60 days in the factory. 5G technology will make the manufacturing process even more efficient and faster, according to Samsung.