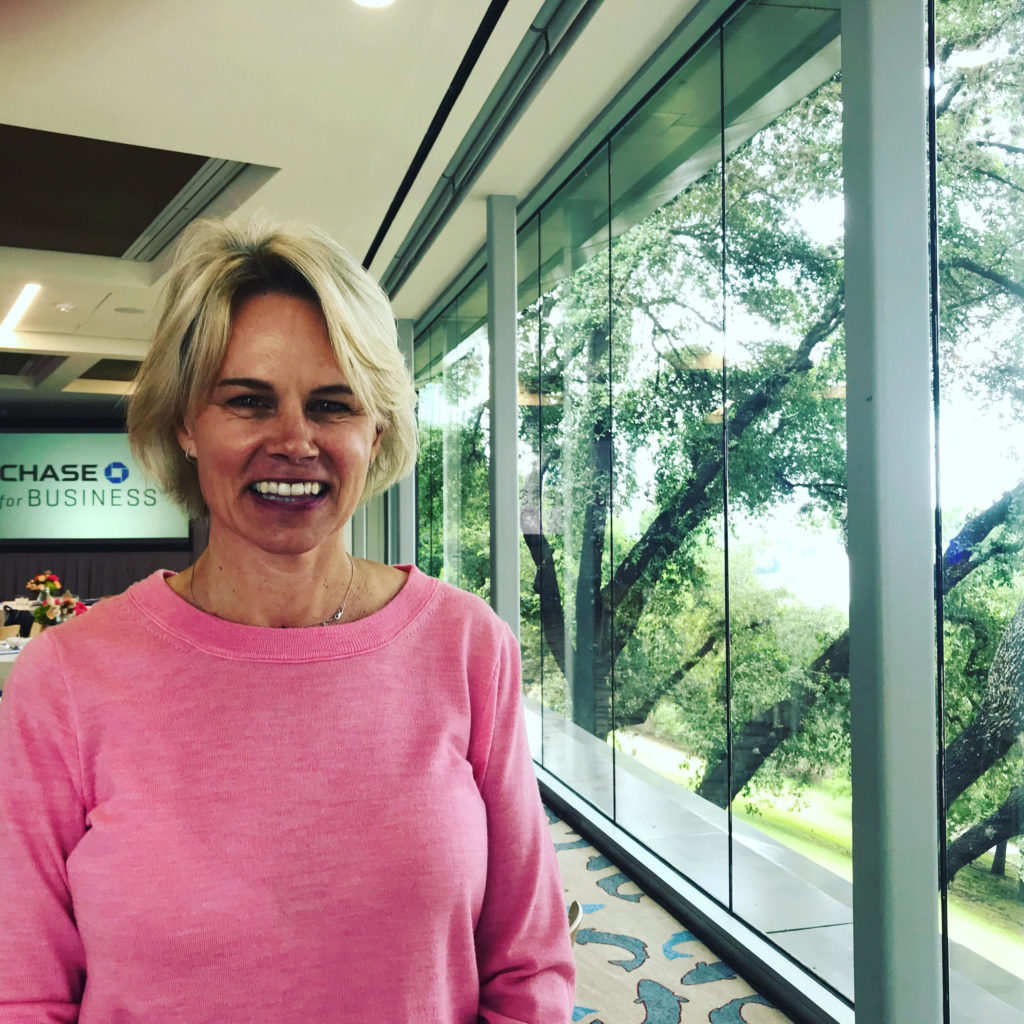 When it comes to work, purpose matters, said Molly Fletcher.
"When we are clear on our purpose it helps us suffocate the fear that bubbles up in our life," said Fletcher, one of the first female sports agents and now a motivational speaker and entrepreneur.
Fletcher gave a talk last week at the Chase for Business event, in partnership with Women on the Move – "Unleash Your Business Potential!" at The Line in downtown Austin. She conducted a workshop on negotiating with about 200 female entrepreneurs and businesswomen.
To illustrate the importance of stories in our lives, Fletcher recounted the story of Olympic speed-skater Dan Jansen. He failed to win a medal at two Olympics, and he was stuck.
Jansen wanted to win a gold in the 1,000-meter race and break the 36-second world record in the 500-meter event, Fletcher said. So, he went to James E. Loehr, a sports psychologist. Jansen told Loehr he hated the 1,000-meter race and no one had ever broken the 36-second barrier in the 500-meter race.
"That's the story you're telling yourself," Loehr said. "What if we change your story."
Loehr told Jansen to stick post-it notes with 35.99 written on them everywhere – on his bathroom mirror, locker, car, door, everywhere he looked. And to write 35.99 in his training log every day.  He also told Jansen to say, "I love the 1000 meter every day after practice."
"That's the story we're going to change your mindset to," Loehr said. "We're going to change the story."
As a result, Jansen changed his story and he won a gold medal in the 1,000-meter race at the 1994 Lillehammer Winter Olympics. And he broke the 36-second record in the 500-meter race four times before the Olympics.
"We tell ourselves all these stories and we begin to believe them and sometimes they don't serve us," Fletcher said.
"When we change our stories, it changes our results," she said. "What is the story that is keeping you in a place that isn't taking you where you need to go?"
When starting out in her career, Fletcher could have told herself there are no female sports agents, and she could have accepted it but instead, she became a trailblazer in the industry. She previously worked as president of client representation for sports and entertainment agency CSE and spent two decades as one of the world's only female sports agents. CNN called her the "female Jerry Maguire" and she successfully negotiated more than $500 million in contracts. Her clients included Hall of Fame pitcher John Smoltz, PGA Tour golfer Matt Kuchar, broadcaster Erin Andrews, and basketball championship coaches Tom Izzo and Doc Rivers.
During her Game Changer Negotiation Training workshop for Chase, Fletcher provided tips and tools on how to close deals faster and build lasting relationships with customers. She also told a lot of stories about lessons she learned from her own life.
Fletcher recounted the story of how she launched her career after graduating from Michigan State University where she earned a bachelor's degree in communications while competing in tennis. She saved $2,000 during the summer and decided to drive to Atlanta to find a job even though she had never lived outside Michigan. It was before the 1996 Atlanta Olympics and she thought there might be opportunities for her to get a sports-related job.
In Atlanta, she slept on a friend's couch for a few weeks until she landed a job as a tennis pro at a local apartment complex. She got the job by networking with other tennis professionals and found out a guy who taught a weekly class at an apartment building was about to leave to get married. She went there and gave the apartment manager her homemade business card. The apartment manager didn't know the guy was leaving yet. But a week later, Fletcher got the position. She taught a weekly class in exchange for free rent for nine years.
Fletcher ended up working for the Atlanta Super Bowl XXVIII Host Committee and then landed a job as at CSE, a sports agency in Atlanta.
Since 2011, Fletcher has written four books: Fearless at Work, A Winner's Guide to Negotiating: How Conversations Get Deals Done, The 5 Best Tools to Find Your Dream Career, and The Business of Being the Best: Inside the World of Go-Getters and Game Changers. She also hosts a popular podcast called Game Changers with Molly Fletcher.
"Business is so anchored in relationships," Fletcher said. "We need to get in the head and hearts of those we serve."
She also learned the difference between champions and those who played professional sports but didn't make it to the top. The champions had an ability to lean into discomfort and grow from it, Fletcher said.
Champions are also resilient, Fletcher said.
"They recover from adversity faster than anyone else," she said.
And when it comes to doing business, it's not about the transaction, it's about building great relationships, Fletcher said.
She also had to drop a client who was sucking away her energy and taking too much of her time.
"It was like a bad breakup," Fletcher said. "This relationship was draining more than I even knew."
Once she cut that client, she was better able to service her other clients.
"We need to protect our energy," she said. "Protect the things that bring us joy."
10 Best Practices to Close the Deal by Molly Fletcher
Negotiate in person
Practice a confident tone
Timing is Everything
Be Aware of Your Body Language
Dealing with Difficult People
Use Curiosity to Overcome Disconnects
The Ask is not the End, it's the Start
Embrace the Pause
Getting to Yes
Know When to Walk Away