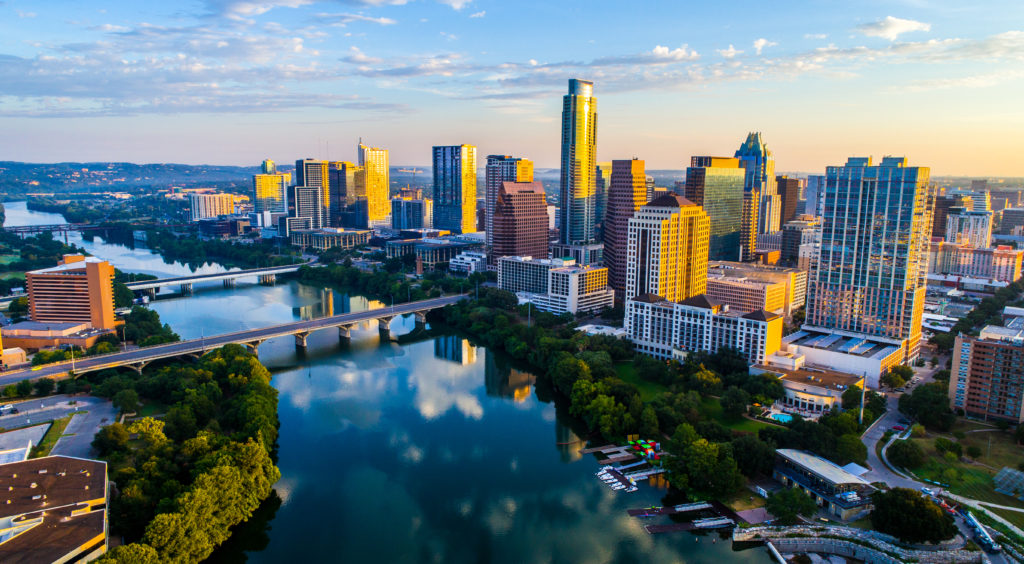 It is tough to recover from March madness and South by Southwest.
But Austin's tech community is not disappointing in the month of April. There are so many interesting talks, pitch events, panel discussions and hackathons to attend.
And Zoho is having its annual user conference: Zoholics in Austin for three days at the Palmer Events Center. The event kicks off next Tuesday. There is still time to register. Use the code SiliconHills to get a discounted ticket. (Full disclosure: Zoho is an advertiser with Silicon Hills News).
And Silicon Hills News is changing things up a bit in April with a Hill Country Happy Hour. Join us on April 18th at The Shady Llama in Wimberley for great beer and a beautiful sunset and if we're lucky, the llamas will be out.
April 3rd
The Riveter Grand Opening
When: 5:30 p.m. to 7:30 p.m.
Where: 1145 W 5th St, Austin, TX 78703
Why: The Riveter co-working space is officially opening in Austin. It is the latest expansion of the Seattle-based organization that caters to women and their allies. For more info.
April 3rd
Going Back to Our Roots: Purpose Drive Approaches for Next Gen Leaders
When: 6 p.m. to 7 p.m.
Where: Robert B. Rowling Hall, The University of Texas at Austin McCombs School of Business, 300 West Martin Luther King Junior Boulevard, Crum Auditorium
Why: "How does one live and work with purpose? How does real social change happen? How can businesses affect social change? Join Walter Robb, former Co-CEO of Whole Foods, in an exploration of these questions and more in the Social Innovation Initiative's first "Trailblazers in Impact" evening! Dennis Price, Editorial Director of Impact Alpha, will moderate." For more info.
April 4th
Austin Tech Open Coffee Downtown
When: 8:30 a.m.-10:30 a.m.
Where: Houndstooth Coffee, 401 Congress Ave, (Frost Bank Tower)
Why: Hosted by Open Austin Coffee, created by Damon Clinkscales and sponsored by Egan Nelson, is an informal gathering of Austin's tech community to network over coffee. For more info.
April 4th
Startup Angel & VC Funding: Raising Money in Austin
When: 6 p.m.
Where: Galvanize, 119 Nueces Street
Why: Founder Institute of Austin is hosting an event on angel and VC funding with a panel of experts discussing the topic. For more info.
April 5th
STEM in the Technopolis: The Power of STEM Education in Regional Technology Policy
When: 8 a.m. to 4:30 p.m.
Where: AT&T Conference and Education Center, UT Austin
Why: IC2 Institute hosts a day-long conference on how STEM education models are opening schools up to businesses and organizations in their communities. For more info.
April 6th
TEDxUTAustin Conference
When: 8 a.m. to 5:30 p.m.
Where: Mulva Auditorium, Engineering and Education Research Center (EER), 2501 Speedway
Why: With a theme centered around sustainability and innovation, TEDxUTAustin 2019 – Origins of Tomorrow will showcase an immersive lineup featuring CEOs, entrepreneurs, student leaders and professors that will transform your paradigms about the future. Sponsored by the Austin Technology Incubator. For more info.
April 8th
Cofounder Austin- Keynote: Reagan Pugh, Founder Partner of Assemble When: 6:30 p.m. to 9:30 p.m.
Where: Capital Factory, 701 Brazos Street
Why: Reagan delivers workshops and keynote speeches on personal effectiveness and leadership development around the country under the banner of Assemble, the consultancy he co-founded in 2016. For more info:
April 8th – April 11th
When: Kicks off 8 a.m. on Tuesday, April 8th and runs through 5 p.m. on Thursday
Where: Palmer Events Center, 900 Barton Springs Road, Austin
Why: Zoholics is Zoho's annual user conference and it's being held in Austin this year. The event is filled with helpful workshops, events and interesting keynote speakers. For more info.
April 9th
Tech Idea to Tech Startup presented by the Austin Forum
When: 5:45 p.m. doors open
Where: Austin Central Library, 710 W. Cesar Chavez
Why:" It is easy to get excited about the possibility of starting a successful tech company—especially in Austin—and to dream about possibilities of becoming a household name or being acquired by the Googles or Apples of the tech world. However, turning a great tech idea into a viable tech company with impact and success requires more than an idea and hard work." For more info.
April 9th
AUSTIN CTO Summit
When: 8 a.m. to 6 p.m.
Where: Capital Factory, 701 Brazos Street
Why: Speakers include senior engineering leaders from the NY Times, Keller Williams, Indeed, RetailMeNot, Artsy and Mode Analytics. For more info.
April 10th
Startup Grind Austin with Evan Loomis
When: 6 p.m.
Where: Capital Factory, 701 Brazos, Suite 150
Why: "Evan Loomis loves people and ideas. He's a native Austinite and most recently co-founded a construction robotics business called ICON that 3D prints homes at a fraction of the cost and time. Evan believes that entrepreneurs take the risks and make the sacrifices to make the world a better place. All of the everyday things we use…everything around us…came from entrepreneurs. Come hear from Evan about how he is doing his part to change the world from Austin, Texas with his 3D home printing company, ICON. " For more info.
April 10th
Techstars Austin Demo Day
When: 2 p.m. to 4 p.m.
Where: Austin Central Library 710 W Cesar Chavez St
Why: Ten startups in the latest Techstars Austin program pitch their ventures before investors, entrepreneurs, mentors and others in the Austin technology community. For more info.
April 12-14th
Startup Weekend Hackout
When: Thu, Apr 11, 6 PM – Sun, Apr 14, 10 PM
Where: Robert B. Rowling Hall, UT Austin, 300 W Martin Luther King Jr Blvd, Austin,
Why: The purpose of this event is to inspire potential entrepreneurs in the LGBTQA community to learn the ropes of validating an idea for a startup or lifestyle business and turn that idea into a business venture. For more info.
April 13th
Girls in STEM Conference
When: 10 a.m. to 3:30 p.m.
Where: Travis High School, Austin
Why: Girls currently in 4th-5th & 6th-8th grades will discover the fun side of STEM careers at this unique annual conference just for them. The day is packed with three hands-on workshops led by women in science, technology, engineering, and math fields. Separate workshops are provided by grade level (4th-5th and 6th-8th). For more info.
April 13th
EcoPitch at Earth Day Austin 2019
When: 12 p.m. to 6 p.m.
Where: 900 Chicon St., Austin
Why: Tarmac TX and Earth Day ATX are proud to announce the inaugural #EcoPitch challenge taking place at Earth Day ATX on 4/13/19 at historic Huston-Tillotson University in Austin, Texas.

The #EcoPitch is designed for entrepreneurs launching early-stage sustainability-focused companies and is open to the public. Individuals or teams may apply. High School Students are especially encouraged to apply with an adult sponsor, and college students are also encouraged to apply. For more info.
April 16th
PowerUp Austin Tech Talks
When: 4 p.m. to 6:30 p.m.
Where: Capital Factory, 701 Brazos St.
Why: Hugh Forrest talks to Gerald Youngblood about his award-winning startup Tankee . They'll cover the state of kid-focused online content and why apps like Tankee fill a valuable need. Youngblood will also share some of his experiences from March, when he promoted this startup via several different avenues during SXSW. For more info.
April 16th
Austin Technology Council: Roundtable: Sales Leadership
When: 7:30 a.m. to 9 a.m.
Where: Galvanize, 119 Nueces St, Austin
Why: Roundtable: Sales Leadership "Emerging Trends" Monthly breakfasts targeted to specific groups within the Austin technology community to come together in a small group of 25-40. For more info.
April 17th
Kick-Butt Marketing, Get-Known Chuck Norris Style
When: 12 p.m. to 1 p.m.
Where: Sputnik ATX 301 Congress  Austin 
Why: "Marketing for startups is life or death. You can have the best technology in your market, but if you're not telling the right story to the right audience, you're dead to the world and will have no customers. 
Yet, when developing a marketing strategy and building a team to effectively execute (another favorite Chuck Norris word), founders often find that they're strapped for time and resources. What marketing initiatives are the most important for a startup? For more info.
April 18th
Silicon Hills News: Talking Tech Happy Hour at the Shady Llama
When: 5 p.m. to 7 p.m.
Where: 18325 Ranch Road 12, Wimberley, TX
Why: Join Silicon Hills News at the Shady Llama in Wimberley for Happy Hour, casual fun and networking. Shady Llama opened last year and is known for its spectacular sunsets and wide selection of locally brewed tap beer. For more info.
April 23rd
Tarmac TX Demo Day
When: 4 p.m. to 8 p.m.
Where: Capital Factory, 701 Brazos St., Austin, 1st Floor Voltron Room
What: Pitch event featuring the startups in the latest cohort of Tarmac TX. For more info.
April 23rd
The World Spins Series: Doing Business in China?
When: 6 p.m. to 8 p.m.
Where: The Neill Cochran House, 2301 San Gabriel, Austin
Why: Featuring Tyler John, international business consultant and former head of Dell's Asia-Pacific Services and author of The Way of Laowai: The Importance of International Self-Awareness for Businesses. For more info.
April 30th
ReVerse Pitch Competition
When: 6 p.m. to 8 p.m.
Where: Capital Factory, 701 Brazos, Voltron Room
Why: It's a competition in which Austin businesses and organizations with potentially usable waste products "pitch" them to entrepreneurs and technologists, who over several weeks come up with new uses for the materials and business plans to support that reuse. At the final event, the [RE]verse Pitch finalists will pitch and compete for the Innovation Prize. For more info.