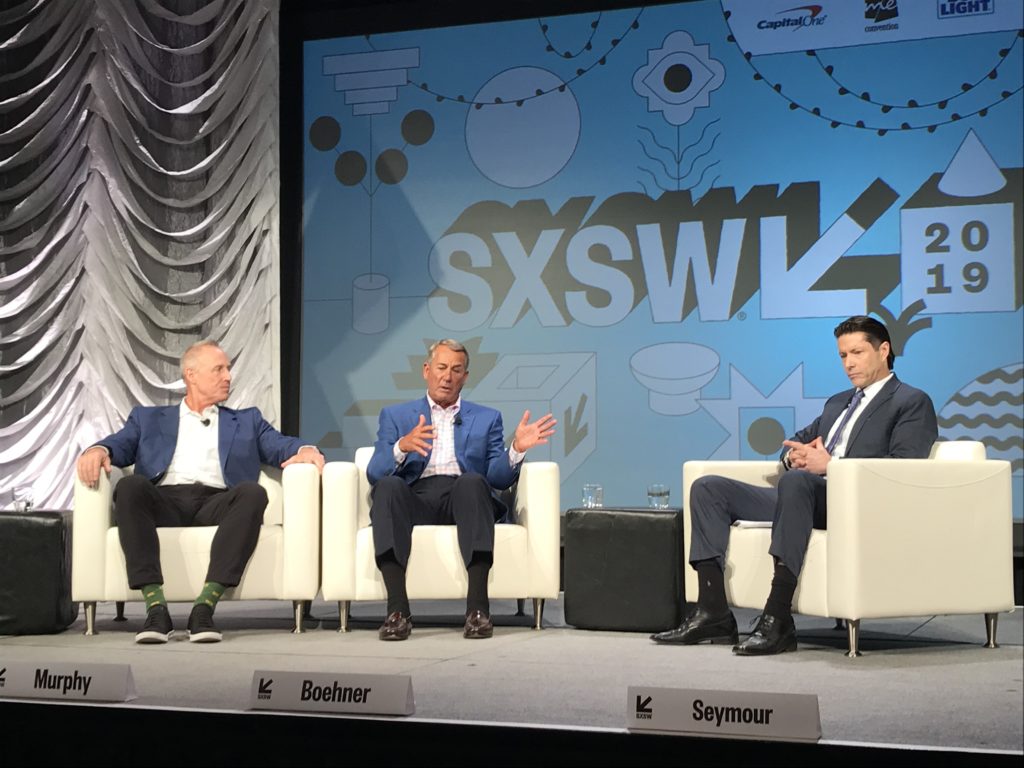 By LAURA LOREK, Publisher of Silicon Hills News
The path to national legalization of marijuana is underway.
That's the conclusion from cannabis experts at South by Southwest, which hosted its first-ever Cannabusiness track this year with 60 panels.
In the U.S., 95 percent of the population believes in the medicinal value of cannabis and believes it should be available, said Kevin Murphy, Founder, and CEO of Acreage Holdings, which owns cannabis cultivation, processing and dispensary operations in 19 states. It does not operate in Texas.
And 66 percent of the population believe cannabis should be available for adult recreational use, Murphy said. Ten states have already approved recreational use of marijuana including Colorado, California, Washington, Michigan, Oregon, Nevada, Alaska, Maine, Massachusetts and Vermont.
Last year, Former Speaker of the U.S. House John Boehner joined the board of Acreage Holdings.
Boehner and Murphy spoke on a panel discussion Friday at SXSW moderated by Tim Seymour, founder of Seymour Asset Management and host of CNBC's Fast Money.
Medical marijuana is now legal in 34 states, District of Columbia, Guam, Puerto Rico and US Virgin Islands, according to the National Conference of State Legislatures.
But it's not an easy path to a legal industry.
Those state laws conflict with federal law, which still classifies marijuana as an illegal Schedule 1 substance under the Controlled Substances Act, making distribution of marijuana a federal offense.
And Texas still has some of the strictest laws in the country regarding cannabis. In 2015, the Texas Legislature passed the Compassionate Use Act which allows for low-THC cannabis for the treatment of intractable epilepsy. The state also licensed three dispensaries to grow and distribute it.
Overall, attitudes about marijuana are changing nationally.
"Over the last five or six years, I've found myself looking at this issue differently than I used to," Boehner said.
Boehner has heard firsthand stories from Veterans with Post Traumatic Stress Disorder who use cannabis to treat chronic pain and to eliminate headaches. He's heard from an 85-year-old baggage handler at the airport who uses cannabis to deal with chronic arthritis.
"The American people clearly are changing their views of this product," Boehner said. "And as they do, this industry is going to grow exponentially over the next 10 to 20 years."
Boehner has never used marijuana. He does smoke cigarettes and drink red wine. And he might try it in the future, he said. He takes an Advil PM every night before bed. He said he might like to replace that drug with a cannabis-related sleep aid.
"We see this business at the cross section between regulatory and commerce," Murphy said.
The Tenth Amendment gives states the right to pass their own laws regarding cannabis, but the federal policy still makes doing business difficult, Boehner said. The federal laws classifying cannabis as a drug leads to ambiguity around financial services, he said. So federal banks will not handle cannabis money and that leads businesses to deal with suitcases full of cash, he said. Also, the Veterans Administration will not offer cannabis as an alternative to harmful opioids.
If the federal government passed the States Act, it would give everyone a choice whether they wanted to use cannabis for medicinal purposes or not, Murphy said. The act would make the states' law the authority when it comes to cannabis.
"If someone can use this plant and substitute it for opioids, we're going to have a lot fewer deaths per day than 130," Murphy said. The Center for Disease Control released a report last December stating 130 people die every day in the U.S. from opioid-related overdoses.
The federal government should pass the States Act in 2019 which will allow Acreage and other cannabis companies to operate more efficiently and use federal banks as well as have a fair tax code to operate under, Murphy said. It will also allow his company the privilege of being listed on the New York Stock Exchange or the NASDAQ.
"Today, we're not welcome here in the U.S. as one of the largest providers of cannabis in the U.S.," Murphy said.
Canada-based cannabis companies can operate on the New York Stock Exchange, Murphy said. Canada is one of the first countries to make cannabis legal.
The world is changing, and the U.S. is not keeping pace, Boehner said.
The 2018 U.S. Farm Bill, which President Trump signed into law, made growing hemp legal. Hemp does not have THC, which produces the psychotropic effects from marijuana. Hemp is derived from cannabis and is used to make Cannabidiol, known as CBD, based products. The Food and Drug Administration said it plans to heavily regulate the industry.
That's created a lot of uncertainty in the market, Boehner said.
All the cannabis industry wants is clarity so it can abide by it, Murphy said. Every state right now has different regulations and it makes doing business across state lines difficult, he said.
Acreage is part of the National Cannabis Roundtable, which is made up of about 10 companies who are big players in the industry. It is focused on passage of the States Act, fixing the banking problem through financial services reform and tax equality.
Once something becomes law in the U.S. it's extremely difficult to change that law, Boehner said. The forces of the status quo are immense, he said.
But cigarette, beer and alcohol sales are all down, Boehner said. And big pharma is looking for new opportunities, he said.
These industries are looking for ways to grow their business again and cannabis offers new opportunities, Boehner said.
But because Cannabis is a drug, they cannot get into the market today, Boehner said.
"Once the States Act passes, once this becomes somewhat legal, you're going to see a flood of big players coming into this industry," Boehner said.
There's also a lot of concern about criminal justice issues related to the cannabis industry. About 15 percent of the imprisoned population in the U.S. is due to a cannabis related offense, Murphy said. He said his company advocates for social justice reform.
In a keynote talk before Boehner and Murphy, longtime cannabis advocate Steve DeAngelo said cannabis reform is coming in the U.S. He believes in an ethical and politically engaged cannabis industry that benefits everyone.
"I believe in the power of hippy dreams because I've seen so many come true," DeAngelo said.