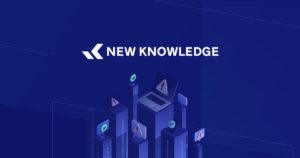 New Knowledge, based in Austin, announced this week it has $11 million in additional funding, to create tools to fight misinformation online.
The cybersecurity company focuses on protecting companies from "from covert, coordinated disinformation campaigns," according to a news release. It raised $11 million in Series A funding led by GVC Capital with participation from Lux Capital.
The company uses artificial intelligence, data mining and other tools combined with human analysis to identify and address attacks against companies. The company plans to use its funding to expand its sales and marketing and to scale into new markets.
"We are living in an age of information warfare," New Knowledge CEO Jonathon Morgan said in a news release. "Disinformation campaigns may be highly organized and well-funded state attacks on industry, as well as individual operators trolling the internet to create chaos and division. Attacks against governments and political figures are well documented, and the problem has expanded to include attacks against companies, brands and public figures. New Knowledge's mission is to help companies identify these threats early, and to remediate them before they gain momentum and erode a company's reputation."
"As disinformation campaigns and automated media manipulation have accelerated, New Knowledge has emerged as critical to helping preserve the digital media platforms that the technology sector has helped build," GGV Capital Partner Glenn Solomon said in a news release. "While social and digital media platforms have taken important steps to thwart hackers and trolls, they cannot be relied upon solely to correct this growing problem. The team at New Knowledge has devised a solution that goes beyond social listening to combat disinformation at the source and help businesses prevent threats from spinning out of control."
New Knowledge, which launched in 2015, has previously raised $1.9 million in seed stage funding. It has customers in the entertainment, energy, financial services, and defense industries.