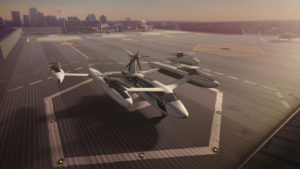 The promise of flying cars may become a reality a soon.
The University of Texas at Austin's Cockrell School of Engineering has teamed up with the U.S. Army Research Labs and Uber Elevate to develop the technology behind Uber's new rideshare venture: UberAIR.
By 2020, Uber plans to demonstrate the first flying rideshare vehicles in Dallas and Los Angeles with a full rollout of the service by 2023.
Uber launched its Elevate program in 2016 to build a network of all-electric, vertical takeoff and landing (VTOL) aircraft powered by distributed electric propulsion. To make the UberAIR program a reality, Uber has partnered with aircraft manufacturers and NASA and now UT and the U.S. Army Research Labs.
"UT is uniquely positioned to contribute to this new technology, and Uber has recognized that," Jayant Sirohi, associate professor in UT's Department of Aerospace Engineering and Engineering Mechanics and the UT team leader on the project, said in a news release. "In addition to the technical expertise we bring to this area, we also already have a rig to test new rotor configurations right here on campus."