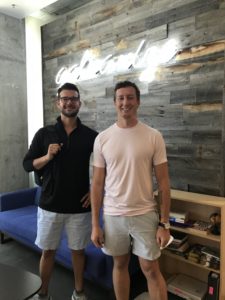 Trust Ventures, an Austin-based venture capital firm has raised an initial $35 million fund, backed by Koch Disruptive Technologies, a subsidiary of Koch Industries, to invest in and support innovative startups facing public policy barriers.
Salen Churi and Brian Tochman lead Trust Ventures. Previously, Churi worked as a law professor and founded the Innovation Clinic at the University of Chicago Law School. He also practiced law at Kirkland & Ellis and Sidley Austin.
Tochman was the co-founder, president and chief operating officer of Kasita, an Austin-based startup that builds modular homes and apartments. Previously, he worked as vice president of mergers and acquisitions for Platinum Equity, a Beverly Hills, CA-based private equity fund.
On this edition of the Ideas to Invoices podcast, Churi and Tochman talk about what motivated them to raise a $35 million fund to focus on disruptive technologies and what kind of investments they plan to make.
"For us we saw a huge opportunity in the market," Churi said. "More and more companies are coming up against public policy barriers that prevent them from bringing new kinds of business models to market. Often times these barriers were put in place 50 or more years ago in a different environment and a regulation addressing a problem came to be. And now many years later, we're in a different kind of economic state and it serves as a barrier to innovation."
Their focus is to help entrepreneurs and be a guide for them, in a lightweight way, navigate the bureaucratic barriers that exist for innovators today.
Churi, as a former law professor at the University of Chicago working for the Institute for Justice, knows the problem firsthand. He worked on a campaign in Chicago to legalize street vending.
"So I was helping folks really on the first rung of the economic ladder selling tamales and helotes and in Chicago that was illegal," he said. The restaurants worked together with the city to fine the vendors up to $1,000 a day and shut them down, he said.
Through that experience he saw the need to do the same thing for high-growth tech companies, Churi said.
"There's a number of them coming up against these barriers," he said.
At Kasita, Tochman faced some of the regulatory issues that prohibit innovation. And that brought him together with Churi.
"Everything from regulation that limits the height you can build modular construction at…to RFP (Request for Proposal) contracts with FEMA (Federal Emergency Management Agency), disaster relief housing after Harvey," Tochman said. "It was a big opportunity for Kasita but for a period of time, it wasn't even accessible to us. We had to work with a lot of the regulators to find a path forward there."
It hit home that this is a really big opportunity, Tochman said.
Trust Ventures focuses on a lot of industries, but it doesn't invest in pharmaceuticals. It concentrates on energy, transportation, financial technology services, insurance, and food and beverage.
"For us, we're looking for where can we add value," Tochman said.
Trust Ventures plans to write checks ranging from $100,000 to as high as $3 million to $5 million. It's looking primarily at investing at early stage investments, Tochman said. When it does make later stage investments, it will leverage its relationship with Koch Industries, he said. Trust Ventures does not take board seats on the company it invests in but seeks an advisory role. The company is looking for big ideas and considers companies that are transformative and have the opportunity to be a $1 billion-plus business.
"We are an investor who has the best interests of the entrepreneur in mind and we're going to be available as much as possible and that's both directly internal to the fund with Sal and I and our team and with our partners at Koch Industries and leveraging their capabilities, their skill set, knowledge and network to help drive them forward."
For more, listen to the entire interview below in which Churi and Tochman talk about how they make their investment decisions, best traits for an entrepreneur and more.
Also, please rate and review our Ideas to Invoices podcast on iTunes and support Silicon Hills News by becoming a patron on our Patreon site. You will get to vote on what we cover in future podcasts and stories.