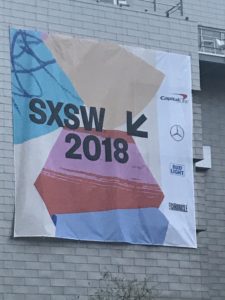 By Laura Lorek
Publisher of Silicon Hills News
The dust might have settled on South by Southwest 2018, but the ideas and energy remain.
Last month, Silicon Hills News put on an event at Galvanize Austin recapping the highlights from SXSW 2018, including local startups that made a big impact, 20 technology trends and 10 speeches to watch or listen to.
Also, the SXSW organizers named "Globally Connected" as the breakout trend of the event. SHN will do another post highlighting some of the countries that stood out at this year's festival.
The recap of the top 20 breakout tech trends to watch, according to Silicon Hills News:
The top 10 speeches to watch or listen to of interest to the Central Texas community:
And lastly, here's the list of the top five local startups that gained traction at SXSW:
StrangeWorks – Officially launched at SXSW 2018 and William Hurley, known as Whurley, gave a keynote speech on quantum computing at the event.
Icon 3D – Officially launched at SXSW. They may have generated the most buzz at the show by building a house using an industrial size 3-D printer loaded up with concrete. They won in the SXSW Accelerator's Social and Cultural category for its construction-technology that is working to build "the first up-to-code 3D printed home in the United States (using concrete as substrate)."
GrubTubs – It won the Hyper-Connected Communities category in the SXSW Accelerator competition for its system that recycles food scraps from restaurants and provides them as feedstock to local farms.
MasSpec Pen – The only Austin-based startup to win an award in the 2018 SXSW Interactive Innovation Awards. The MasSpec Pen was created by the Eberlin Lab at the University of Texas at Austin.
Samsa – This Capital Factory-based startup won the 100K Blockchain Challenge award at SXSW. Samsa created an online cryptocurrency platform that lets users create custom portfolios from a basket of indexes.
Also, here's another recap of SXSW that may be of interest: Hugh Forrest Provides Seven Early Observations on SXSW 2018.