By Laura Lorek
Publisher of Silicon Hills News
At South by Southwest 2018, Ingrid Vanderveldt, chairman, and CEO of Empowering a Billion Women by 2020 movement, launched MintHer, a financial resources network for female entrepreneurs.
Vanderveldt, who previously served as the first entrepreneur in residence at Dell, spoke at SXSW 2018 on "Empowering a Billion Women with $1 Billion in Capital by 2020."
On Tuesday morning at the Austin Chamber of Commerce, Hugh Forrest, Chief Programming Officer of SXSW, interviewed Vanderveldt following his presentation SXSW 2018 early observations.
"What I was happy to see this year was the involvement of the women," Vanderveldt said.
This year, Vanderveldt noticed more women coming in for SXSW and more attention on the women speakers, she said. She had women flying in from all over the world for the MintHer launch. She hosted a "Champagne Crawl" with women and self-proclaimed "Man-bassadors" to various Austin boutiques. She also hosted a VIP dinner.
In 2015, Vanderveldt and the Empowering a Billion Women by 2020 movement worked with Dell Financial Services, Frost & Sullivan, and Xero, to release its "Business in a Box" software platform for women fueled with a $100 million IV credit fund.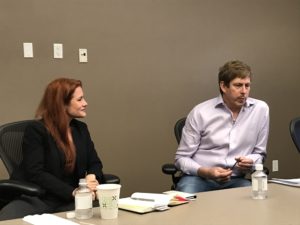 "When we launched the $100 million fund, not a single woman applied," Vanderveldt said. "We launched in May of 2015 and not a single woman applied. The guys did. The guys blew up the fund."
The women were buying the "Business in a Box" services but they couldn't scale fast enough, Vanderveldt said.
"We realized how important mentorship and education and building scalable ecosystems to help women start, grow and build their ventures and build confidence before they ever go apply for the funding," she said.
MintHer seeks to provide those things.
"We went into development for three years and spent over $3 million and 7,500 people on the engine of this platform, but we essentially built out a matching platform to match women entrepreneurs to funding resources and revenue opportunities," she said.
Dell allocates $4 billion a year to diverse and women-led companies, Vanderveldt said. Other companies are trying to allocate big contracts to women-led ventures and they are having trouble finding them, she said.
"So this platform now qualifies and vets potential deal flow and matches them to the revenue opportunity," Vanderveldt said.
To ensure startups can meet the scale up and supply requirements for the big companies, that's where the $100 million credit fund comes into play, Vanderveldt said.
"One of the things we're really looking at is women showing up," Vanderveldt said.