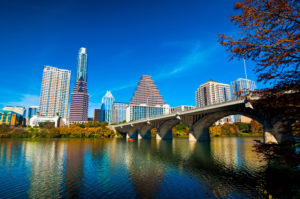 Austin's tech scene is always hopping. No matter what the day or the time, it seems there is always something fun to do.
So if you're looking for something to do this week, check out these fine events:
Monday – Saturday – Austin CPG Week by TEN Capital Group features more than 42 sessions across 18 venues in Austin this week.
Monday – Co-Founders Meetup at Capital Factory by the Tech Map featuring Krishna Srinivasan with LiveOak Venture Partners. The event kicks off at 6:30 p.m. Tickets cost $15.
Tuesday: Blockchain Basics: Legal Implications and Business Viability at noon at the University of Texas Law School: TNH 2.140 (Wright Classroom) Event is free and open to students, staff, faculty and the public.
Tuesday – Intro to the Austin Startup Scene AMA & Happy Hour with Joshua Baer at Capital Factory starting at 4 p.m. Cost is $10.
Tuesday – Tech Ranch's Venture Forth Meet the Team Bootcamp at Impact Hub Austin's North Lamar location. Select a time to meet with the team. It's free.
Thursday – Open Coffee Austin Downtown – starts at 8:30 a.m. at the Houndstooth Coffee shop. The event is free.
Thursday – Big Ass Social Happy Hour, known as #BASHH and put on by Lani Rosales and The American Genius, kicks off at 6 p.m. at the Hangar Lounge. It's free.
Friday: Sputnik's Lunch and Learn: How to Raise Your First Round featuring a talk by Roger Chen from Silverton Partners at noon at Sputnik's headquarters. The event is free but requires advance registration.
SXSW – March 9 – 18 at the Austin Convention Center and locations all over Austin.
Upcoming events: (sponsored content)
Silicon Hills News' lunchtime workshop: How to Get Featured in the Media – Wednesday, Feb. 28th from noon to 1:30 p.m. at Galvanize Cost is $7.
CXL Live 2018 event is in Austin March 28-30: CXL Live is a 3-day growth and conversion optimization event. Growth leaders from Shopify, Instagram, Airbnb, Google and other impressive companies share their strategies and tactics. See the full lineup here. Use this coupon code for $200 off: SHN
GroundBreak Construction Conference by Procore Technologies, Nov. 13-15 in Austin. Use the Code "LocalsOnly" to save $100 on registration costs through April 2018.