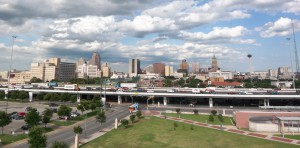 It's that time of the year where the folks at Geekdom give the state of the tech ecosystem report about the coworking and event incubator's impact on San Antonio. If you're interested in the tech scene in San Antonio, it's the event to attend this week.
Also, in the same vein of collaboration among Austin and San Antonio, the folks at South by Southwest are hosting a meetup at Brick at the Blue Star Arts Complex on Wednesday evening to give a rundown about all the benefits of attending SXSW in March. And one lucky attendee (you must be present to win) will win a badge to SXSW.
Here are the details of this week's events:
Tuesday: Jan. 30 – 10 a.m. at Geekdom – State of the Tech Ecosystem – At this annual meeting, Geekdom's leaders give a report on the impact the San Antonio-based coworking space and tech center is having on San Antonio. Geekdom Founders Graham Weston and Nick Longo are expected to attend along with Geekdom's Chairman Lorenzo Gomez and David Garcia, CEO of Geekdom.
Tuesday: Jan. 30th – 9 a.m. to 11:30 a.m. BUILD – Join Alice, Dell and Bunker Labs to celebrate San Antonio's vibrant network of small businesses and startups at the Maestro Entrepreneur Center at 1811 S Laredo St.
Wednesday: Jan. 31 – 5:00 p.m. to 7:00 p.m. at the Geekdom Events Center – Get Giggy with It – Table Tennis Tournament hosted by JumpFiber
Wednesday: Jan. 31 – San Antonio: SXSW Community Meet Up – 6:00 p.m. to 8:00 p.m. at Brick at Blue Star Arts Complex. The folks at South by Southwest are going to give information about what the big SXSW conference in Austin is all about and they give away one free badge at the event. It's free, but register to attend.
Friday – Feb. 2 – Geekdom – 4:00 p.m. – Fermented Friday – beers and networking with the Geekdom community.
Upcoming events:
Codeup Demo Day at The DoSeum on February 14th from 3:15 PM to 5:30 PM
Patriot Boot Camp: Technology Entrepreneurship Boot Camp in San Antonio on Feb. 16-18th.
Xconomy's San Antonio Tech: Seizing the Momentum on Feb. 20t
SXSW in Austin March 9-18.
Upcoming events: (sponsored)
InnoTech San Antonio at the Norris Conference Center