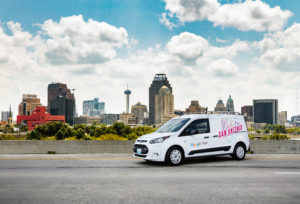 This week, Google announced that Google Fiber is now available in some areas of San Antonio.
Residents of San Antonio in the "Westover Hills area and around West End Park on the near west side have from now until Dec. 21 to sign up for the company's flagship product: Fiber 1000, or up to 1,000 megabits per second of high-speed symmetrical broadband to their homes," according to Google.
The service costs $55 a month for super-fast Internet.
"The spirit of Google Fiber has always been one of innovation – and we're honoring that right here in San Antonio," Tyler Wallis, Google Fiber's San Antonio City Manager said in a news statement. "From the way we're building the Fiber network to our product line-up, we're simplifying our processes to give our customers what they've told us they want – affordable, super fast Internet without any unnecessary complications."
To date, Google has deployed its Google Fiber in 12 metro areas nationwide including Austin.
"Access to high-speed broadband is a critical piece of creating an economically viable city," San Antonio Mayor Ron Nirenberg said in a news statement. "I am pleased to see increased investment in high-speed internet throughout the community. This infrastructure is crucial to enhanced economic development and educational opportunities for San Antonians."
To check for availability of the Google Fiber service in San Antonio, residents can visit google.com/fiber/sanantonio.