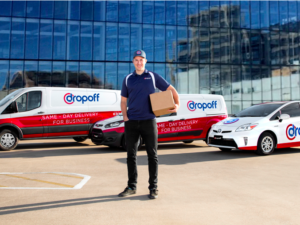 Dropoff, the same day delivery service, announced this week it has raised $8.5 million in additional funding.
The Austin-based startup, founded in 2014, plans to use the money to expand to 35 additional markets in North America, according to a news release. Last week, Dropoff announced it had entered three new markets: San Diego, Fort Worth and Nashville. To date, the company provides same day delivery service to 15 cities.
Fulcrum Equity Partners in Atlanta led the round with participation from previous investors including Greycroft Partners and Correlation Ventures. To date, Dropoff has raised $15.5 million in venture funding.
"We are delighted to announce this milestone, which has put us on track to scale our innovative, same-day delivery solution at an exciting pace," Sean Spector, CEO of Dropoff, said in a news release. "Expectations have evolved, prompting more businesses to turn to same-day delivery to solve last mile challenges and satisfy their customers. This is helping to fuel our growth."
Dropoff plans to use the latest funding to hire more local market teams and increase the staff at its Austin headquarters by 50 percent in the next 18 months.
"Technology is creating a new standard in same-day delivery, and Dropoff is leading the way with a robust, proprietary platform," James Douglass, Partner at Fulcrum Equity Partners said in a news release. "We're excited to watch their vision and leadership reshape the logistics industry."
Douglass and Scott Dorfman, former Innotrac CEO, will join Dropoff's board.
Dropoff customers include Sprinkles, Whole Foods, Neiman Marcus, Zazzle, Airbnb, JW Marriott and McKesson.