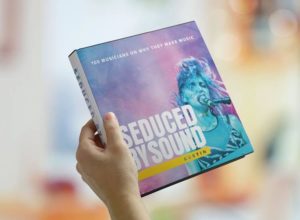 Special Contribution by LISA WYATT ROE
While SXSW sits at the crossroads of tech and music, the new book "Seduced by Sound: Austin, 100 Musicians on Why They Make Music" is almost a signpost.
This anthology written by some of Austin's best artists came together via a social collaboration platform built by Weeva, a Capital Factory startup that creates custom books.
Weeva founder and CEO Kim Gorsuch was curious: What makes Austin's musicians tick? Why do they make music? What inspires them?
To find out, Gorsuch decided to ask them. She hired Carley Wolf, guitarist and frontwoman for the Ghost Wolves, to curate the project. They invited local musicians to answer a few questions and to upload their writing and photos to Weeva's online platform. Then Weeva's editors and designers got to work.
The result is an inside look at the Austin music scene from musicians telling their own stories and offering insight into the creative journey and the music business.
Gorsuch will tell the book's story at the SXSW Interactive panel The Power of Crowd-Sourced Storytelling & Publishing on Thursday, March 16, at 3:30 pm. Joining her will be Carley Wolf, Rudy Garza of G51 Amplify, and Beka Nicholoas of High Brew Coffee, who worked with Weeva to create a book celebrating High Brew's company culture and history.
To celebrate "Seduced by Sound: Austin," Weeva hosted a party this week featuring bands and artists who contributed to the book, including Shinyribs, the Ghost Wolves, Walker Lukens, Annabelle Chairlegs, Nathan Edge, Tee-Double, John Evans Band and Justin Wade Thompson. The party took place Wednesday at The Townsend, 718 Congress. A portion of the proceeds from the sale of the books will go to the Health Alliance for Austin Musicians (HAAM), which provides access to affordable healthcare for the local music community.
Facebook event: