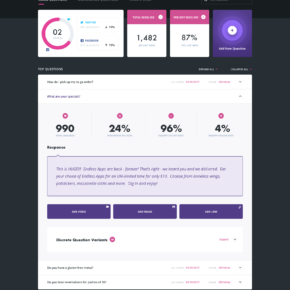 Conversable, an intelligent conversation platform for businesses, Thursday announced the launch of a new product called AQUA, which stands for Answer Questions Using AI.
With AQUA, any employee in a company can push automated responses live to a bot without any knowledge of how to code.
"Bots are stupid," said Ben Lamm, CEO of Conversable. "2016 was the year of bot hype."
What Conversable has created is a software program that relies on a machine learning engine that learns from consumer interactions. That allows the intelligent program to sort through costumer queries and flag the most important ones for product managers. The managers can then respond to those questions and push them live to a bot for distribution.
"Andrew and I are big believers that words matter," Lamm said. "We think of bots as the eyes, ears, nose and mouth of a company but they are not really the brain." Andrew Busey is the co-founder and chief product officer of Conversable.
AQUA reaches consumers on all a company's conversational channels, Lamm said. It also automates the flow of information and it provides data and insights back to the brand, he said.
For example, if a customer visits the restaurant chain Wingstop's homepage, the program can recognize that customer and based on past purchases, it can tell she has a food allergy and requires gluten-free options. Instead of having the customer go looking for that information, the program can serve them up with suggestions for gluten-free entrees.
Like Amazon's Alexa home management system that relies on artificial intelligence and becomes smarter with use, so does the AQUA program. It continually learns from interactions with consumers and employees.
"It gives the brand the ability to have better interactions and to better serve that consumer," Lamm said.
"The combination of advances in AI with the rapid adoption of messaging platforms has opened up broad new opportunities to drive dramatic improvements in customer care," Busey said in a news release. "The AQUA system combines human-assisted machine learning with adaptive systems and an easy to use console to let business managers deliver answers quickly, easily, and correctly, to their customers."
AQUA manages frequently asked consumer questions, whether they are routine or obscure, and frees up the company's employees to work on harder customer problems, Lamm said.
Conversable launched a little over a year ago, the company has raised about $3 million in seed stage capital from a handful of angel investors locally. Lamm and Busey have also invested in the company. Conversable has already attracted major brands like Budweiser, Whole Foods, Domino's Pizza, Viacom, Wingstop, Victoria Secret, Ernst & Young and others as customers.
"We haven't even built out a sales and marketing team yet," Lamm said. "Conversable has zero sales people."
The brands have been calling Conversable directly to solve problems they encounter. For example, Budweiser released a special Internet of Things cup in Canada for hockey fans. Every time their team scored, the cup would light up. That created a huge buzz for the company. But it also created a huge headache for their social media and consumer help teams that got swamped with customer inquiries about the cup. Budweiser turned to Conversable to create an automated response program to handle the huge volume of questions, Lamm said.
Conversable is building a multi-billion-dollar business in Austin with an office in Dallas, Lamm said. Its artificial intelligence driven platform helps brands reach their customers with automated experiences on all major messaging and voice applications. The company, which is currently based at Capital Factory, has 28 employees in Austin and five in Dallas. It expects to expand to 100 employees or more by the end of the year, Lamm said.
Asked if Conservable is a call center killer, Lamm said it will disrupt that industry.
"Automation has the potential to change jobs," he said.
People need to evolve and adapt as artificial intelligence takes on a greater role in the workplace, Lamm said.
"Artificial intelligence can create new kinds of jobs," he said. "Machines can't do everything. They still need humans."
Conversable is thinking big and has big goals, Lamm said.
"The machine learning, artificial intelligence space really matters," he said. Conversational artificial intelligence, data, voice communications is going to lead to better conversations and better customer interactions, he said.
"It's going to have a massive impact and change the world," Lamm said.