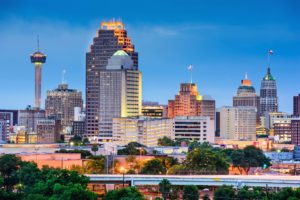 The second annual San Antonio Startup Week is taking place this week at various venues downtown.
Events run Monday through Friday at the annual event which features sessions geared to entrepreneurs and early-stage companies. This year, Geekdom, USAA and Trinity University are sponsoring San Antonio Startup Week.
A full schedule of events can be found on the San Antonio Startup Week website.
San Antonio Startup Week features presentations, panels, workshops and events hosted at Geekdom and other sites around town. On Wednesday morning at Paramour, Kerry Rupp and Sara Brand, founders of True Wealth Ventures, an Austin-based venture capital firm focused on investing in women entrepreneurs in Texas, will give a presentation on Women Investors and Women Entrepreneurs and their performance records. They are also speaking about empowering women entrepreneurs at a 1:30 p.m. to 2:30 p.m. session at Geekdom.
And Lorenzo Gomez, CEO of Geekdom, is giving two talks. One on Tuesday about storytelling at 1:30 at Geekdom and another on owning your category at noon on Thursday at Geekdom.
There's also the RealCo Accelerator launch party Wednesday evening at Geekdom. RealCo is a 15 month long accelerator program focused on tech startups that cater to businesses.
And Thursday at Burleson Beer Yard, there's closing remarks and a talk with Graham Weston, cofounder of Rackspace and Steve Cunningham, CEO of Readitfor.me.