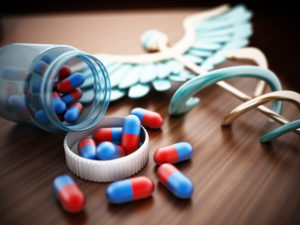 By LAURA LOREK
Founder of Silicon Hills News
NarrativeDx is an Austin startup pioneering a social-based feedback system that gives hospitals and clinics timely information about their patients' experiences.
The Dell Medical School at the University of Texas at Austin selected its inaugural class of 50 students this past summer. They are working to transform the way medical care is delivered. And the campus is flourishing with the Dell Seton Medical Center opening in May of 2017 and the creation of a healthcare innovation zone. And the Dell Medical School is looking to work with startups to improve patient care.
New medical technology startups are sprouting up all the time in Central Texas and we've compiled a list of ten to watch in Austin and ten to watch in San Antonio.
These are just a few of the stories you will read about in this third annual issue of Silicon Hills News focused on the life sciences industry in Central Texas. This issue is possible thanks to our advertisers: BioMed SA, Texas State University Small Business Development Center, bank SNB, the Greater Austin Chamber of Commerce, PotentiaMetrics, Novobi, Unaliwear, MPO Summit, InnoTech Austin, Moreland Properties and everyone else who has offered assistance and support.
Silicon Hills News turns five years old in September. It's amazing what we've been able to accomplish in five short years. We built our website up to 40,000 unique visitors monthly and our newsletter and social media channels continue to grow with more than 10,000 collective followers. We completed two successful Kickstarter projects to launch the magazine and create an annual technology calendar. We're also working to launch a weekly podcast. We've done all this as a bootstrapped startup with great empathy for the companies we cover. But many individuals have contributed to our success. I will not name them, since I haven't received their permission to disclose their names publicly, but I will just say thank you. I appreciate all that you have done for Silicon Hills News. This would not be possible without your contributions.
And all of our success at Silicon Hills News has been possible in a large part to our stellar staff of contributors including Susan Lahey, who has been with Silicon Hills News since the first month. Thanks also to veteran business reporter Tim Green who has contributed to every paper issue of the magazine. And last, but certainly not least, a big thank you to Hojun Choi, a journalism student at the University of Texas at Austin and a stellar reporter. He also contributed several stories to our last life sciences edition and served as Silicon Hills News' first intern.
And thank you to you, the readers, for your time and attention. We truly appreciate you.