By LAURA LOREK
Reporter with Silicon Hills News
Startups and investors engage in a complicated dance in Austin's funding ecosystem.
It is a topic which has generated a lot of discussion about whether enough investors and funds exist to finance entrepreneurs in Austin or whether the startups just aren't good enough to land investment.
On Tuesday, about 70 people attended the Texas State Small Business Development Center's Spectrum event at the Frost Bank Tower in downtown Austin for a panel discussion on "Why Startups Get Funded" moderated by Paul O'Brien, founder of Accelerate Texas.
The panel featured three entrepreneurs who landed investments on the TV show Shark Tank including Yuen Yung, now founder of Casoro Capital, a real estate investment firm and previously founder and CEO of How Do You Roll? a fast-casual sushi restaurant franchise. Christie Barany and Courtney Turich, co-founders of Monkey Mat, a portable playmate for kids, also participated. In addition, the panel featured an investor, Rick Timmins, chairman of the board of the Central Texas Angel Network.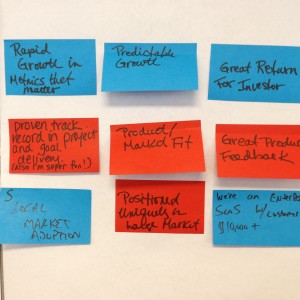 To kick off the event, O'Brien asked the entrepreneurs to write on red and blue post-it notes on why investors should fund them and post them on a sheet under the amount of funding they are seeking from $100,000 on up. Many startups had revenue from grants, customers, government funding, contracts and more. Most were seeking under $1 million in funding.
O'Brien, who moved to Austin six years ago from Silicon Valley, said in California many entrepreneurs he meets start off with why they started their venture. In Texas, the entrepreneurs tend to talk about what they do. He said the most important message to convey to investors is why they should fund you.
"If you're not capably communicating why you need investors and why they might want to work with you then they can't help you," he said.
O'Brien said customers and revenue aren't always relevant.
"It comes down to why you're doing what you're doing," he said.
In his presentation, O'Brien quoted from Businessman and Author Peter Drucker, saying the purpose of a startup is to create a new customer, not to find a customer.
"Because the purpose of business is to create a customer, the business enterprise has two and only two basic functions: marketing and innovation," according to Drucker.
He also touched on the current controversy in Austin about whether the city has enough venture capital.
David Altounian, assistant professor of entrepreneurship at St. Edwards University, serial entrepreneur and a partner at Capital Factory, did a study on Austin's venture capital investments last year. His conclusion is "Austin generates loads of seed money to fuel young businesses but lacks the Series A, Series B and late stage funding sources," according to O'Brien's presentation.
Then in February of this year, Richard Bagdonas, a serial entrepreneur in Austin, wrote a post "The Dark Ages of Austin Startup Capital" and published it on Medium and later republished on TechCrunch outlining a shortage of venture capital available for Austin entrepreneurs. That sparked a lively discussion among entrepreneurs and investors.
Indications are that venture capital investing is slowing down nationwide, O'Brien said. In his presentation, he quoted California Venture Capitalist Mark Suster saying "50 percent of the VCs tell Upfront Ventures that they will slow their pace." And Mike Maples Jr., a partner in Floodgate, has reported that his firm will not invest in any more Austin based companies like Favor because of the Austin City Council's recent regulations concerning ridesharing companies like Uber and Lyft and short term rentals that can be booked through sites like HomeAway.
After O'Brien outlined the difficulty in getting venture capital, he presented a slide with four questions entrepreneurs should answer on why they should get funded.
1. Why you? Why do you care?
2. Why will the market want it and why will it work?
3. Why do you need venture capital?
4. Why is this an opportunity for investors?
During the panel discussion, O'Brien asked the entrepreneurs why they got funding.
Barany, co-founder of Monkey Mat said investors on Shark Tank saw that they provided a simple solution to an everyday problem. They had only done $60,000 in sales, but they were building market traction, she said. In 2014 during Season 5 of Shark Tank, Lori Grenier and Mark Cuban invested $100,000 in the company for a 35 percent stake.
Yung secured the first $1 million investment on Shark Tank from Kevin O'Leary, known as Mr. Wonderful, during Season 4 in 2013. But the deal eventually fell through.
"When I look back at all the different things I've done they all got funded in different ways," Yung said.
Yung said the key to his success was bringing people along on his entrepreneurial journey as if he were a travel agent. He painted a vision for investors and convinced them to come along on the journey, he said. For example, How Do You Roll wasn't about sushi, it was about offering healthy food on the go, he said.
"Once they buy into that the money part becomes easier," Yung said.
Those are all the different things that happen through the process to convince someone to write a check or wire the money, he said. They have to know what's going on and they have to believe that you are going to do it, he said. And in the end, people only work with people they like, Yung said. You have to be someone an investor wants to work with, he said.
Timmins with CTAN said angel investors invest in people.
"You've heard that so many times it sounds sickening but it's true," Timmins said. "We will only invest in entrepreneurs we believe can do extraordinary things."
The entrepreneurs tend to be younger than the investors and not have as much experience, or as much accumulated knowledge so they have to evaluate whether or not the entrepreneur can lead a group and motivate other people, he said.
"A simple quality that I look for all the time – can they listen, can they take direction, can they be mentored," he said.
They also have to decide on some objective criteria like can the entrepreneurs meet a deadline and do something within budget.
Sixty percent of the criteria they put on a company, though, is about the individual, Timmins said.
That said, Timmins made a huge mistake in 2014. The largest investment CTAN made that year was in a bad entrepreneur and CEO.
"He turns out to be a cockroach," Timmins said.
O'Brien thought that was funny because the term "cockroach" is now being used to label entrepreneurs who can survive the nuclear winter they are going to go through to find success.
Today, compared to eight or nine years ago it costs less to start a business but it is still not a trivial task, Timmins said.
He disagreed with O'Brien and thinks companies seeking investment should have a product or service completed and valuable customers.
"Go down the path of finding customers not just to help pay for the expenses you are going to occur but to validate your path," Timmins said.
No matter what stage you are at you need cash, Yung said.
The bigger your network, the more likely it is you are going to find someone to finance you, Yung said.
Texas has 12 angel networks and there is an alliance of these networks that has been in place for four or five years to syndicate deals, Timmins said.
"In this community there are hundreds of super angels that invest in certain products, markets and industries," Timmins said. "There is collectively a lot of money they use to invest. More important than the money, is the mentoring."
In the end, most businesses fail even those that get investment.
"I got into the business knowing that most of these businesses are going to fail," Timmins said. "Forty percent of every investment an angel will make will fail – and that's knowing that I'm pretty good at selecting entrepreneurs. Thirty percent are going to return my capital in some form. Twenty percent are going to give me my capital back and some return. One is going to give me the return for all my investments I've ever made."
"That doesn't account for all the other businesses that didn't get funding from me," Timmins said. "This is a hard business. I have nothing but the utmost admiration for entrepreneurs knowing those odds."
Next week, the Texas State Small Business Development Center will host Session Two: "Are You Targeting the RIGHT Source of Funding?" at the Frost Bank Tower on Wednesday.