By LAURA LOREK
Reporter with Silicon Hills News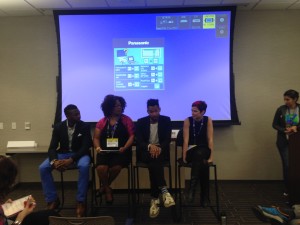 Austin has got a problem, said Michael Henderson, founder and CEO of Developers Doing Development.
The city's black population is now around 8 percent, and city projections show it could fall to as low as 5 percent in coming decades, according to an article last summer in CNN.
Henderson spearheaded a panel at South by Southwest late Friday afternoon on Creating a More Diverse Austin Startup Scene. The event, held at Austin Chamber of Commerce, drew about 20 people.
The panelist included Viva Pinchas, growth marketer with Automattic, the parent company of WordPress, Charmane Sellers, advisory board member with Enterprising Women Foundation and Koy Mcdermott, chief strategy officer of Leaders Inspire Leaders.
Increasing diversity comes down to two things, said Pinchas, who grew up in Austin. First, it's important to raise up under-represented voices, she said. And second is to decrease barriers and make technology more accessible to everyone, she said.
That's where WordPress comes into play, Pinchas said. It "democratize publishing. One out of four websites is on WordPress," she said. And Automattic also owns Woo Commerce, which is an open source e-commerce site that lets entrepreneurs easily open up a store.
"Both are entirely free," Pinchas said. "You have to pay for hosting. For about $13 a month you can have your own business."
Last year, communities hosted 89 WordCamps, community lead conferences capped at $20 a day and focused on teaching WordPress skills, all over the world and 21,000 people participated. WordPress also holds meetups once a month.
"With all of these different tools more people can start their businesses online," she said.
Sellers with the Enterprising Women Foundation, focuses on teaching young girls Science Technology, Engineering and Math skills and mentoring them to success.
"We want to make sure that by 2020 we have close to 1 million girls in the STEM industries," she said.
Last year, the organization hosted events in ten cities and more than 10,000 women attended the conferences and were matched with mentors, she said.
"There's a lot of traction that is happening," she said.
Acknowledging that a problem exists with diversity in Austin is the first step to addressing it, said Mcdermott.
"Diversity is a buzz word and it's also a bit taboo," Mcdermott said. "When it comes to diversity for me, it's really understanding each and every individual has unique ideas, views and education."
Leaders Inspire Leaders was founded in 2014 out of a personal need, Mcdermott said. He wanted to focus on teaching entrepreneurial skills to his generation: Millennials and to encourage diversity through entrepreneurship.
"The Millennial Dilemma is to get a good education, get a good job but individuals have not been exposed to entrepreneurship," Mcdermott said.
"The things that we take for granted – it all was created in someone's mind," Mcdermott said.
He wants to focus on getting students as young as 12 interested in entrepreneurship. In May, he's launching Level Up to take a cohort of six students – half women/half men – through a five-week program so at the end of the program they will have a micro-business. The goal is to create more diversity in startups.
Austin is a tale of two cities with the best of times and the worst of times, Henderson said. He also grew up here. For a long time, it was east Austin, which was predominantly black and west Austin, which was largely white, he said.
But East Austin has become gentrified and a number of black families have been pushed out their neighborhoods because of affordability issues.
And to create a more diverse Austin it's important to be inclusive, Henderson said.
Mcdermott encouraged everyone to advocate on behalf of a person who comes from a diverse background. It's free and it's essentially mentoring on steroids, he said.
"That's one way we can expose individuals to opportunities," he said. "That's something that will cost you nothing but your time."
Sellers pointed out the importance of organizations like Black Girls Code and Girl Start to encourage girls to pursue STEM careers while their still young and their get their mind is fresh and they still have the passion to dream and not be pigeon holed or typecast, she said.