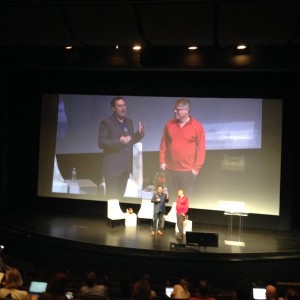 Robert Scoble, who has worked in various roles with Rackspace for the past seven years, announced Thursday he is leaving the San Antonio-based tech company to join UploadVR.
Scoble made the announcement at the Pre Conference Summit SXW20, a daylong event put on by the W2O Group at the Zach Theater in downtown Austin.
Scoble will serve as UploadVR's Entrepreneur in Residence. He will join the company in April.
Scoble said he's excited about the possibilities of virtual reality and he's looking forward to exploring the new industry.
Scoble, a former reporter with Fast Company Magazine, joined Rackspace in 2009 as an employee. He produced videos and other content for the company's Building 41 website. He later took on the title of futurist for the company. He often represented Rackspace at various technology conferences worldwide.
Rackspace Chairman Graham Weston, who was a speaker at the event Thursday morning, thanked Scoble from the stage for his work.
"In joining UploadVR, Scoble will play a big role in a number of our different business properties from providing his voice on our site and helping build new media properties to working with companies in the Upload Collective, our hybrid co-working and incubation space for AR and VR companies that opens on March 15" Will Mason, co-founder and Editor in Chief with UploadVR.com wrote in a blog post.