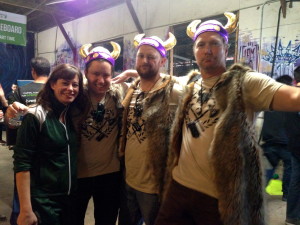 Has it been five years already?
Silicon Hills News covered the first Austin Startup Games at uShip back in the day and every one since then. In the beginning, they called them the Austin Startup Olympics, but I think they had to change the name so as not to confuse everyone with the real Olympics. (which to my knowledge doesn't yet offer a gold medal in beer pong.)
uShip won the first Austin Startup Games, BuildASign came in second followed by SpareFoot. But BuildASign went on to capture the crown during the summer games. And SpareFoot claimed the top prize at the third Startup Games. SpareFoot also won again last year.
So the big question on everyone's minds in the startup community is will SpareFoot win again? To find out, head out to the fifth annual Austin Startup Games today at Fair Market. And it's not just for fun. This is serious fundraising business. Every year, the startups raise money for local charities. This year, they aim to raise more than $57,500 for local nonprofit organizations.
The events include Ping Pong, Foosball, Beer Pong, Flip Cup, Pop-a-Shot, Darts, Shuffleboard, Connect Four, Trivia, MarioKart, Liar's Dice (for executives of local tech startups) and the fan's favorite: Mystery Event. In the past, the mystery event has included bull riding and jousting in an inflatable ring with a strongman.
Participating companies also competed in a canned food drive leading up to the event, which awarded the winning team, Modernize, a one-point lead heading into the contest. The team with the most points wins the games with Gold, Silver and Bronze awards. But every startup that participates receives $1,000 to donate to the charity of its choice.
"Startup Games celebrates the hardworking, competitive and fun atmosphere that drives so many successful companies in Austin, and puts that culture to work for good causes," Dan Graham, co-founder of the Notley Fund, a newly-launched philanthropic investment firm, said in a news release. Earlier this year, Startup Games joined the Notley Fund as one of its signature programs that amplify giving in local communities.
The Notley Fund grows out of Graham's, and his wife and co-founder Lisa's, commitment to creating positive change. As CEO of BuildASign.com, Graham made charitable donation a part of company culture; they have contributed more than $1 million of in-kind donations to more than 1,700 local and national non-profit organizations. With the Startup Games, Dan and Lisa Graham hope to give more businesses the same power for positive change.
"Our vision is to have the top startup communities across the world competing in local events with the goal of raising $1,000,000 per year for charity," Graham said.
Here is the complete list of teams and the charities they've chosen to support:
Boundless Network — Charity: Meals on Wheels and More
Capital Factory — Charity: Breakthrough Austin
Civitas Learning — Charity: Center for Child Protection
theCHIVE — Charity: CHIVE Charities
Headspring — Charity: Do It For The Love
LawnStarter — Charity: NAMI-National Alliance on Mental Illness
Modernize — Charity: Girl Start
OneSpot — Charity: Without Regrets
OutboundEngine — Charity: Austin Children's Shelter
OwnLocal — Charity: Austin Bat Cave
RideScout — Charity: Team RWB
Sparefoot — Charity: Kure It
TrendKite — Charity: JDRF Austin
uShip — Charity: Communities in Schools of Central TX
The Austin Startup Games kick off at 12:45 pm CT at Fair Market, 1100 E. 5th Street. Doors open at 12:00 p.m. The event is open to the public. A $10 donation is suggested for admission.
The Austin Startup Games, founded in 2012, is sponsored by PwC, CBRE, Kastner Huggins Reddien & Gravelle, ScaleFactor, Geeks Who Drink, McKinley Rother DiMarco, and Easton Park.