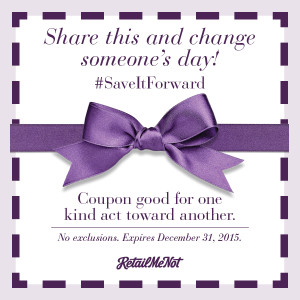 RetailMeNot, the world's biggest online deal site, brought a lot of Christmas joy to the 73 residents of Coupon, Pennsylvania.
The Austin-based company gave the town a surprise recently. RetailMeNot collected the Christmas wish lists of people from the town of Coupon. But they weren't wishes for themselves. They were presents for their neighbors. And then RetailMeNot purchased the gifts and held a big party at one of the resident's houses to give them away. One family got a new porch swing. Another got a new refrigerator. And one couple with two young little girls got an all expense paid trip to Disneyland.
The true spirit of Christmas is it's better to give than to receive, said Brian Hoyt, spokesman for RetailMeNot. RetailMeNot offers online coupons and it has a mobile app that allows consumers to save money on purchases.
RetailMeNot created the #SaveItForward campaign as a way to promote goodwill and charitable causes throughout the holidays.