By LAURA LOREK
Reporter with Silicon Hills News
San Antonio taxi cab driver Abdirahman Jama used to drop passengers off at the Weston Centre to attend the
Open Cloud Academy
.
Then he found out that for $3,500 he could take classes through the academy and receive his Cisco Certified Network Associate credentials. He taught himself the prerequisites for the class. He also previously took three years of college credits but that didn't create a pathway for him to find a job in IT.
Jama, who is from Somalia in East Africa, found his true calling through his studies at the Open Cloud Academy in San Antonio. In a few weeks, he'll graduate and he hopes to land a job at Rackspace as a network expert.
"Dream job," he said.
At the end of September, the Open Cloud Academy, which is operated by Rackspace, moved into new headquarters on the fifth floor of the Rand building in downtown San Antonio. The academy launched in 2013 on the sixth floor of the Weston Centre.
Last week, the academy held an open house to celebrate its new offices. Also, the City of San Antonio announced a grant of $250,000 to help train residents in the academy programs in cooperation with its partner, Project Quest. The Open Cloud Academy and its partners have received local, state and federal grants to train IT employees in San Antonio.
In addition to the academy, Geekdom has expanded to the sixth and seventh and eighth floors of the Rand building. Techstars Cloud occupies most of the eighth floor.
"It's great networking for our students," said Marcus Benavidez, manager of the Open Cloud Academy.
Some of the students who graduate from programs at the Open Cloud Academy land jobs with startups at Geekdom. WP Engine, a WordPress hosting company, has hired several of them, Benavidez said.
The new Rand office has allowed the Open Cloud Academy to expand from three to five classrooms, Benavidez said. It also let the academy develop a fun and funky space with quotes on the wall from great leaders like Martin Luther King and wall murals in code done by Italian artist Alka Cappellazzo. The space is bright and colorful and inviting.
"We built out the space to our specific needs as a training center," Benavidez said.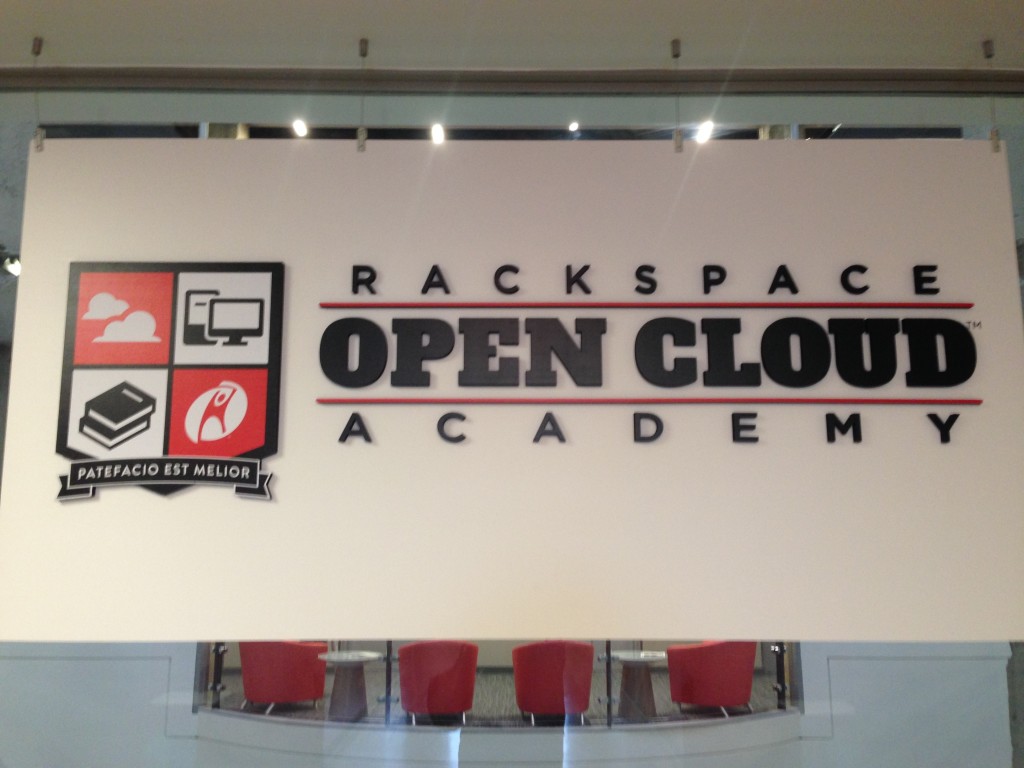 The academy operates in two phases, Benavidez said. The first phase requires students to have their network plus certification. To help them do that, the academy offers free nightly certification courses. It offers 12 to 18 classes a month specific to network training. The minimum age for participants is 18. Class size is around 24 students.
"They come from all kinds of different walks of life," Benavidez said.
The students range from people who worked retail jobs to retirees looking for a second career, he said.
The academy also has a Linux Systems Administration training room, which can hold up to 20 students and a Network Operations classroom with 15 students. The room features a one to one student to equipment ratio, which helps students to pass their Cisco Certification Network Associate test. This year, 97 percent of the students have passed and received certification, Benavidez said.
On Dec. 11th, the latest class will graduate. The classes last eight to nine weeks and cost $3,500. Some of the students receive tuition assistant from Project Quest. The students attend classes from 8:30 a.m. to 5 p.m. But they have 24/7 access to the facility and many work after hours on projects.
Right now, a lot of the students are preparing for job interviews, Benavidez said. Rackspace hires about 47 percent of the students, he said. About 76 percent of the Open Cloud Academy graduates have found information technology jobs, he said. Data Foundry, GigaNews, Cisco and Golden Frog in Austin have hired graduates from the program, he said.
The Open Cloud Academy also runs a Linux for Ladies program once a year in the summertime. It is focused on getting more women into IT jobs, Benavidez said. The last class had 21 students. Rackspace hired seven of them and four others found IT jobs in San Antonio.
A current student, Elizabeth Hils quit her job as a bank teller and now she's about to graduate from the networking class.
When people used to come into her bank with a red lanyard around their neck and a Rackspace ID, she used to chat them up about what kind of jobs they had open. One of the employees told her about the Open Cloud Academy and that's when she decided to pursue a job in IT full time. She started attending the workshops, read a book and got her network plus certification.
"I'm doing stuff I never thought I could do," Hils said.
Hils said working in IT will also double her previous salary. She has a college degree but only made in the $20,000 range at her bank job. With her Cisco Certified Network Associate credentials she hopes to make $55,000 a year or more.
"This is an amazing deal," she said.