By LAURA LOREK
Reporter with Silicon Hills News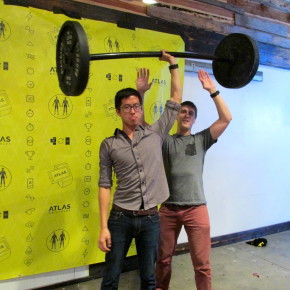 Atlas Wearables officially launched sales of its new $249 Atlas Wristband fitness tracker at a party Tuesday night.
After two years in development, the Austin-based startup is now shipping the devices to its customers and taking orders on its website, said Peter Li, CEO and co-founder.
The company, with 12 employees, participated in Techstars Austin's inaugural class in 2013. Mike Kasparian is a co-founder along with Li. Its device is designed in Austin and manufactured in China.
The party, which received more than 300 RSVPs, held at
Vuka Studios
, celebrated the launch with food, drinks, a photo booth, DJ and fitness demonstrations with the device. Partygoers were encouraged to tweet with the hashtag #TheMagicisReal.
The Atlas fitness tracker, worn on the wrist during workouts, tracks calories burned and heart rate but it also collects data on metrics such as power, stability, efficiency and more, Li said. It also features a coach mode with workout programs, he said. The fitness tracker syncs its data via Bluetooth with the Atlas Wearables app on a smartphone. It's available on both iOS and Android devices. The Atlas tracker features a touchscreen, which makes it easy to navigate the controls, and it is also water resistant.
Atlas' fitness tracker distinguishes itself from other devices on the market like Fitbit and Jawbone, by tracking more than just steps. It's geared to people who work out a few times a week. It can track a wide range of activities including weightlifting, push-ups, sit-ups, jumping jacks, burpees, squats and lunges.
The company launched an IndieGoGo campaign in early 2014 and exceeded its goal by 503 percent to raise $637,282. It's now shipping those units to customers, Li said. It is also doing direct sales from its website.
Atlas, founded in 2013, has raised $2.8 million in funding so far and it will probably seek additional funding later this year or next year, Li said. It's focused on marketing right now, he said.