By LAURA LOREK
Reporter with Silicon Hills News
At well over six feet tall with a strong build, Rodney Curry, a retired member of the U.S. Army's 101st airborne division, wears a camel colored bag slung over one shoulder.
He's still got the close-cropped haircut of a soldier but instead of an army uniform, Curry wears shorts and a T-shirt emblazoned with the logo of his startup company, TacTikes.
And the army-style bag he's carrying is a rugged diaper bag with modular attachments designed to take your baby from diapers to Kindergarten and beyond.
Curry showed off the bag at an elevator pitch event at Capital Factory Tuesday to showcase veteran-owned startups. TacTikes is one of 11 companies, which just graduated from the Bunker Austin's first cohort of veteran-led startups. The Bunker Austin also worked with I-Corps, an entrepreneurship program led by the University of Texas' IC2 Institute. The first program launched in January and ran for six months.
"It's been one of the greatest learning experiences of my life," Curry said. "In a nutshell, it has opened me up to a vast network of folks that can provide capital, help me with my branding and marketing and supply chain."
And he's worked with mentors at nearly every stage of his company's development, Curry said. TacTikes recently launched a Kickstarter campaign and has already raised $6,222 of its $45,000 goal with seven days left in its campaign.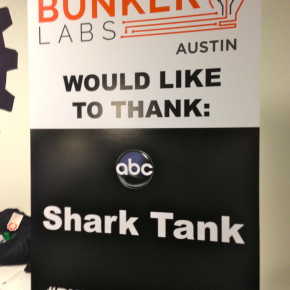 Curry also got to pitch Tuesday to a producer of Shark Tank. The special audition, held in conjunction with the Bunker's elevator pitch event, allowed select veteran-run companies to try out for the show. They will find out in the next few weeks if any of the companies will be featured.
Curry's two-year-old daughter served as inspiration for the new line of diaper bags.
"I wanted to create something I wanted to carry around and something that had a lot more utility than what's currently in the marketplace," Curry said.
He launched TacTikes last summer and attended an entrepreneurial bootcamp for veterans with disabilities at Texas A&M before joining the Bunker Austin. He had a prototype of his bag by December and after going through the Bunker training he launched a Kickstarter this month to ramp up manufacturing. The bags cost $144.99 each.
"We live in a throw away world and I fight that status quo by building a bag that will last as long as you want it," Curry said.
In addition to TacTikes, the first Bunker Austin cohort included Battle Beds, CoolMellon, F7 Group, HireOurHero, WiseRides, Horton Oil Tools, Sockwork, Unsweet Tea, Uride and V-Threat.
"The cohort helps each entrepreneur actively build and expand their company," said Johnathan Paul Wojtewicz, co-founder of the Bunker Austin, who served in the U.S. Marines.
Wojtewicz founded the Bunker Austin with Joseph Kopser, co-founder and CEO of RideScout who served in the U.S. Army for 20 years before retiring in 2013 as a Lieutenant Colonel and Blake Hogan, who served as a First Lieutenant in the U.S. Marines and has run a few startups. The veteran founders saw the need for a one-stop shop in Austin to help veteran-run companies launch locally.
Studies show that veteran entrepreneurs are almost twice as likely to succeed over their civilian peers when starting a new business, Wojtewicz said.
The Bunker helps plug the startups into resources and training they need as well as mentors who help advise their businesses, Wojtewicz said. Mentors include Bob Metcalfe, Ethernet inventor and professor of innovation at the University of Texas, U.S. Congressman Michael McCaul and Kevin Koym, founder of Tech Ranch.
At the Bunker's event Tuesday, the entrepreneurs actually pitched their ideas during an elevator ride from the 16th floor to the lobby. Mentors and investors gave the entrepreneurs feedback on their pitch on the ride back up to the top.
In addition, nine of the 11 companies in the Bunker cohort, presented their companies in front of a packed room. More than 210 people registered for the event.
"I did meet someone who is going to help us out big time on the elevator," said Marcus Carey, founder of
vThreat
and Chief Technology Officer.
vThreat has created a software as a service platform that does enterprise attacks and solutions to show companies where their vulnerabilities exist on their network. Its product is called vThreat Cloud. Carey has raised $650,000 in angel and seed stage investment.
Carey, an expert in cybersecurity, previously served in the U.S. Navy as a cryptologist stationed on a ship in Scotland and at the National Security Agency in Maryland. He originally launched the company in Herndon, Virginia after participating in a special cyber security incubator. But he's from Marlin, Texas and he relocated the company to Austin.
"I wanted to be part of the Bunker as soon as I heard about it," Carey said. "It's an amazing organization. It does put veteran entrepreneurs in contact with mentors and investors."
vThreat's office was located at Capital Factory and now they are moving into their own offices.
Michael Ray, who served in the Marine Corp., launched WiseRides to help people, particularly service members, buy used cars.
More than 37,000 mom and pop car dealers in the U.S. sell used cars but there's a huge gap in educating people on car ownership. The service recently launched in Killeen. Its bootstrapped right now, Ray said. The Bunker Austin program gave Ray a competitive advantage, he said.
"It's given me access to things I couldn't do on my own," he said. "I've had conversations with Google and IBM at Capital Factory. We have mentors that come in and give time to us."
Robert Dicks and his twin brother Charles Dicks, who served in the U.S. Air Force, recently launched Uride Transportation to help people get to healthcare appointments. No shows in the healthcare industry is a $120 billion a year problem, Robert Dicks said.
The Bunker Austin provided guidance, access and resources, Charles Dicks said.
"It just expanded our network and pointed us where we needed to go," he said. "And it filled in the knowledge gaps."
Sockwork
, a sock subscription service that donates 10 percent of its profits back to charities, also participated in the Bunker Austin and
is currently running a Kickstarter campaign for its new brand, Purpose Outfitters
, which makes socks dedicated to fallen soldiers.
Sockwork launched its business in 2014 as part of Cratejoy, a subscription box platform, with a $2,000 investment and sold $120,000 worth of socks its first year, said Mario Barrett. He founded the company with his wife, Tina.
"We went from zero to almost six hundred customers in our first six months," Barrett said. "We stopped doing advertising until we could figure out the fulfillment side."
Barrett eventually hired a fulfillment company out of Portland, Oregon. Now he handles everything with a computer and a phone. Barrett previously served in the U.S. Army for five years and the National Guard for two years. He is a University of Texas McCombs School of Business MBA graduate. He and his wife both work full time and work on the business after hours. They've hired Tina's sister as their first full time employee.
"We can double our business this year if we really go after it," Barrett said.
Purpose Outfitters has a day left in its Kickstarter campaign. It has raised almost $10,000 of it $15,000 goal. Each pair of socks contains the name of a fallen soldier stitched into the fabric and the label will contain information about the hero. The socks, made in North Carolina, will be delivered by November if the Kickstarter is successful, Barrett said.
"The Bunker was able to introduce us to people, Barrett said. "It convinced us to go out and be daring with our marketing."
The Bunker Austin has outgrown its current home at RideScout's headquarters and plans to co-locate inside Capital Factory. The Bunker Austin is currently accepting applications for its next class, Wojtewicz said.