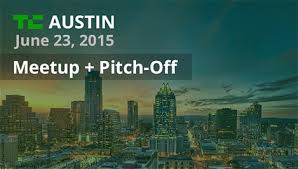 TechCrunch, the nation's largest technology news site, is coming to Austin on June 23rd to hold a meetup and pitch-off event.
The deadline for startups to apply to participate in the pitch-off is today. Each startup gets 60 seconds to pitch in front of a panel of judges including TechCrunch writers and local VCs. All of the startups must be in stealth or private beta. First place receives a table in Startup Alley at a TechCrunch Disrupt event, second place receives two tickets to the event and third place receives one ticket.
This is the third annual pitch-off event for TechCrunch in Austin.
The startups TechCrunch selects also get 15 minute one-on-one talks with TechCrunch staff.
The event will be held at Palm Door on Sixth with doors opening at 6 p.m. and the pitch off competition beginning at 7 p.m.
Tickets to the event cost $10.