By SUSAN LAHEY
Reporter with Silicon Hills News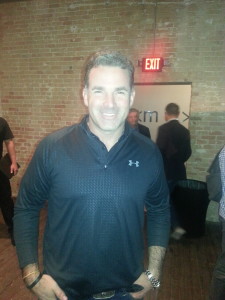 Kevin Plank, CEO of Under Armour, has a whiteboard in his office on which many things are written in black about the growing company vision.
Under Armour recently opened a connected digital fitness headquarters in Austin and announced its new Grip wrist band. And since it purchased other companies including MapMyFitness it has built a global digital community of 130 million athletes who use the organization's products and track their workouts and food intake. But in the middle of the whiteboard, written in red is this message: "Don't forget to sell shirts and shoes."
Plank, whose company has reached $3.8 billion in revenues this year, was interviewed by Heather Brunner, CEO of WP Engine, at the Austin Technology Council CEO Summit Thursday. Brunner tried to coax information from him about insights gleaned from the company's digital community which include the fact that most runners complete 3.1 miles on average and that a certain Under Armour shoe performs best at just under 400 miles. But if there are other secret athlete insights the company is gleaning from the data he kept that to himself.
He did, however, share basic insights about building a company from a tiny operation and $15,000 in his grandmother's basement to a global company. In keeping with his football player roots, Plank takes a very aggressive stand toward entrepreneurship. His headquarters is full of signs with slogans like "We play offense" and "Great ideas get funded."
Though his personal belief is that the best source of funding is your product's inventory. He believes in speed and decisiveness, even when that leads to errors. For example, the company's first women's line of athletic clothing was created by a dozen men sitting around a table postulating what their wives and girlfriends might want to wear. Their solution was to "pink and shrink" the men's clothing line. But after they'd created the women's line, and sold nearly $1 million worth to retailers—reflecting about 20 percent of the company's profits—they realized they couldn't ship them because they weren't up to par. It would screw up the brand.
That inspired the company to start broadening its ideas about who considers themselves athletes and respond accordingly with new product lines and more hiring diversity.
Under Armour's move into wearables is a logical one, Plank said, especially because with all the data we have available to us, many of us can't remember what blood type we are or the name of a doctor we saw several years ago. Our body is our most important asset, he said. That's what we should be tracking the data on.
But the culture is still all quarterback. Brunner recalled a campaign Under Armour did with the slogan "Protect This House." It was 2010, the economy had tanked and she was working with BazaarVoice at the time. They adopted the slogan for their own.
"Yeah, there was a lot of testosterone in that one," Plank said ruefully, but it also reflected American ideas that people needed, especially then.
The main secret to the company's success is "we never believed it wouldn't happen. You have to grab your business, lift it up, will it to happen…we're just getting started."