By LAURA LOREK
Reporter with Silicon Hills News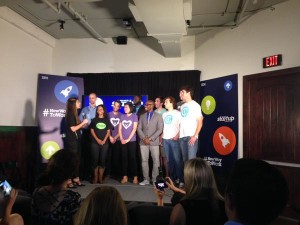 IBM put five startups run by millennial entrepreneurs in a house on Lake Travis in Austin this week to work on their ventures.
"They went through a five day accelerator," said Amber Armstrong, program director of IBM Social Business in Austin.
During the week, the teams had to do a variety of challenges ranging from meeting with customers, partners and venture capitalists to learning how to best pitch their social good ventures, Armstrong said.
The week culminated in a pitch session for IBM's a New Way to Startup competition Friday afternoon at Trinity Hall in downtown Austin.
The teams included:
Charity Charge
, a credit card that lets consumers designate money to support charities. #NewWayCC
Stretch Recipes, a mobile phone app that lets people plan healthy meals on a budget. #NewWaySR
The Lassy Project, an app that notifies the local community when a child goes missing. #NewWayLP
Sproutel, a healthcare platform that makes Jerry the Bear, an interactive learning companion for the 18 percent of children with chronic illnesses. #NewWaySP
Owlet Baby Care that has created a sock monitor for infants to detect dangerous heart rates and oxygen levels. #NewWayOW
Even though the teams pitched before a group of judges, IBM did not announce the winner. The winner of the overall event will be announced in July.
The competition actually began at South by Southwest. At that event, ten teams spent a few days together in a house in Tarrytown. They had to pitch at SXSW and the field was narrowed down to five finalists.
IBM is sponsoring the New Way to Startup competition and filming the entire competition for a reality web series. It has released the first episode and plans to release more episodes in coming weeks. The contest also focuses on how the teams use IBM Verse, a business email solution and Watson Analytics, predictive analytics and data visualization.
Starting Friday and running through June 15th, each finalist must work to generate fan impressions online on Twitter using their unique hashtag. Fans get to vote for the favorite team by tweeting their unique hashtag. On July 1st, IBM will announce the winner of the New Way to Startup competition. That winner will receive a trip to the exclusive TED@IBM event.
"We're trying to show that IBM has the ability to help smaller companies," Armstrong said.
IBM wants startups to be able to harness the tools and technology in the cloud that it also markets to large enterprise businesses, Armstrong said.
"The house was amazing. It was beautiful. It was a great oasis," said Lauren Foster, founder of Stretch Recipes.
But the ability to make connections through the IBM accelerator was the biggest benefit, Foster said. She met with Whole Foods, which plans to launch a pilot program in Austin with her Stretch Recipes app.