By LAURA LOREK
Reporter with Silicon Hills News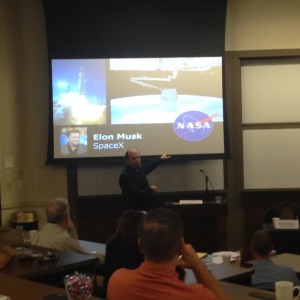 The end of NASA's space shuttle program was the beginning of the commercial space age and the race to Mars.
The Texas Space Economy Initiative seeks to cultivate that industry and Austin wants to serve as the hub of innovation in the new space race.
In January, the Austin Chamber launched an initiative to focus on space. Paul Baffes, chief architect for change management at IBM, serves as the co-chair of the Greater Austin Space Economy Task Force.
On Wednesday, the University of Texas at Austin's Master of Science in Technology Commercialization Program sponsored the Blast Off Austin panel discussion on ways to nurture the space industry in Austin. UT just launched a master's degree in Space Entrepreneurship.
The event, which took place at the AT&T Education and Conference Center, featured an overview of commercial space industry by Rick Tumlinson, chair of Deep Space Industries and Orbital Outfitters. He's also founder of a new non-profit in Austin called the New Worlds Institute, which plans to put on a conference in the fall focused on space exploration. Tumlinson recently moved to Austin.
"What's happening is the idea has become real now that we can settle space," Tumlinson said.
Efforts are already under way to build colonies in space, Tumlinson said. The Space Exploration, Settlement and Development Act of 2015 is a bill that will be introduced in the House of Representatives to make space settlement a national space policy goal, he said.
"We are going to be growing communities in space," Tumlinson said. "It's already happening. We're going to go and we're going to do incredible things. We're going to create a new civilization."
Emergent Space Technologies opened an office in Austin eight years ago with three engineers, said Brendan O'Connor, the company's vice president of technical services and chief software architect. The company's main customer is NASA. It chose Austin because of the software industry here and the University of Texas at Austin's Center for Space Research.
Barton Bollfrass, founder of Fathom Academy, has created a commercial astronaut training facility in Austin. He's training the workforce for the new space industry. In 12 months, Bollfrass will have a new training facility. He's training blue collar workers to become the electricians, plumbers, construction workers and more in space. He said wealthy individuals are privately funding his project. He declined to give specifics.
"Space is accessible if you have good ideas and you have the passion for it," Bollfrass said. "
The space industry is really small in Austin right now. Austin has 47,000 high tech companies that employ 25 percent of the city's overall workforce, said Michele Skelding, senior vice president of Global Technology Innovation at the Austin Chamber of Commerce.
In comparison, the life sciences industry has 200 companies and Austin has just a few companies in the space industry right now, Skelding said.
Austin can connect with Houston, San Antonio and Dallas to help foster the space industry here, Skelding said.
The space industry is a $314 billion market and Austin sees a big demand for growth in space exploration and technology. That includes satellites; launch providers, spacecraft components, in-space services, software and robotics.
Austin is also competing with Silicon Valley and Seattle to become the hub of space innovation, Tumlinson said.
"Texas is the hub of new space and Austin is the hub of Texas," Bollfrass said. Austin needs to foster the feelings of cooperation and collaboration to grow the space industry