By SUSAN LAHEY
Reporter with Silicon Hills News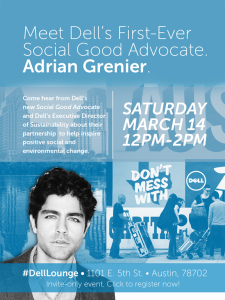 Dell is working on numerous social good and environmental sustainability initiatives including making packaging out of wheat straw and recycling the components of its discarded computers, according to a SXSW panel at the Dell Lounge 1101 E. 5th Saturday. The company has also connected with actor, director and producer and activist Adrian Grenier as its new Social Good Advocate.
David Lear, Dell's Executive Director of Sustainability held up the wheat straw packaging and said the company had originally toyed with using rice hulls for packaging but that wheat straw is usually discarded and in China it's burned, creating an air pollution problem. So using the wheat straw has many benefits. "It's not sexy…." Began Lear, but moderator Rebekah Iliff broke in with "That's what you have him for."
Grenier's job, both as an individual and Dell advocate, seem to be making sustainability efforts more attractive to the general populace. He will be active in hammering out plans for sustainability and social good with the company. He advocates for causes such as zero waste, created a television show called Alter Eco about millennials finding ways to create sustainable lives, and is in the process of creating a film called The Loneliest Whale about a hybrid whale that communicates on a frequency different from all other whales. The real focus of that film is waste in the oceans.
Other initiatives Dell is putting in place for its five year plan include recycling 2 billion tons of waste by the year 2020, Lear said. It's called Dell's Legacy of Good 2020. The company has partnered with Goodwill to collect and recycle used computers to reduce waste and the need to mine and produce new minerals.
After the panel, Deborah Sanders, Director of Global TakeBack for Dell said the company recycles metals, plastic and more from discarded Dell computers and is very careful about how it sources metals. Most electronics, as a filmmaker in the audience pointed out, knowingly or unknowingly use conflict minerals, minerals that are mined through abusive and even fatal practices in countries such as the Congo.
Grenier suggested some sort of platform where Dell users and others could make suggestions and Dell could crowdsource other environmentally sustainable and socially proactive initiatives.
"One of the things I'm really enjoying about this partnership so far is that Dell has real tangible goals," Grenier said. "That's exciting because you can measure it. If you can't show your progress it becomes an iffy proposition…and I think your wheat straw box is cool."