By SUSAN LAHEY
Reporter with Silicon Hills News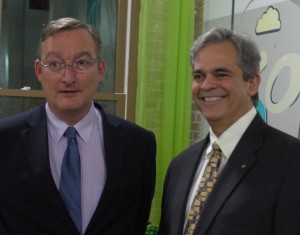 Texas Representative Tan Parker wants to make Austin the most competitive and easy place for any company in Britain to set up shop, according to UK Consul General Andrew Millar, speaking to a group of about 40 at the official launch of Austin Hackney United, a sister-cities program between Austin and a suburb of London that houses Europe's fastest growing tech center, Tech City.
"It's a steep hill to climb" Millar said, "but you've got an opportunity to get something really interesting and positive going here…. The US-UK relationship is writ large in Texas in the coolest city in Texas and in America in my opinion. You are an internationally connected city. You have an audience of 3.5 billion people with F1, SXSW is a world class event…. There are some things government does well and some things it does less well. We support wonderfully, but it takes people with passion and vision and appetite to accomplish what the people in this room have accomplished."
Austin City Mayor Steve Adler also praised the group who had been working on the partnership since 2012. and has expanded it to relationships between Austin Community College and Hackney Community College and grassroots relationship building between startups and incubators on both sides of the pond.
"You get involved with city government and you realize that so much of what is important, in fact most of what is important is happening outside city government," Adler said to the group at the invitation-only happy hour at Techstars offices on Congress. "At this point Austin aspires to be one of the truly great international cities. We may not be able to knock on the door of the mayor of London just yet but we're not far from having, I think, that kind of position in so many areas