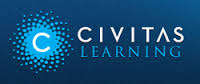 Civitas Learning, a three year old education technology startup, announced Tuesday it has secured $16 million in funding.
Rethink Education led the investment with additional funding from existing investors Austin Ventures and Emergence Capital. To date, the company has raised $32 million in four rounds from seven investors, according to its Crunchbase profile.
Civitas, which has 100 employees, plans to use the funds to continue to grow its business. Recent customers include Texas A&M University, University of Washington, The University of Texas at Austin and Florida International University. "Civitas Learning currently manages data across hundreds of campuses, helping more than 2.3 million students navigate the complex journey through college," according to a news release.
Civitas has created an online platform that provides data and data analysis to students, faculty, advisors and administrators. The software can help a student develop personalized major and course recommendations or help faculty and advisors identify students in need of help.
"Civitas Learning's intense focus on quantifying its impact on student success rates is a breath of fresh air for the education sector, and continues to produce remarkable results," Rick Segal, Managing Director of Rethink Education said in a news release. "Their unique approach to working in close collaboration with higher education institutions and building a community of thought leaders is very powerful. The company and its partner institutions are truly bringing actionable data science to the front lines of education."