Finding a parking spot in downtown Austin can be a challenge especially during major events.
Now Parking Panda, a free app that lets drivers find, reserve and redeem parking in advance, seeks to make that task a lot easier. It has launched in Austin.
The service is now available statewide with service in Dallas, Houston, San Antonio and Fort Worth.
"What we've analyzed with our experience is that Texas has been a great market for parking innovation and we look forward to continue expanding our inventory, growing our partnerships, and providing the best experience for residents and visitors alike," said Bryan Lozano, Parking Panda spokesman.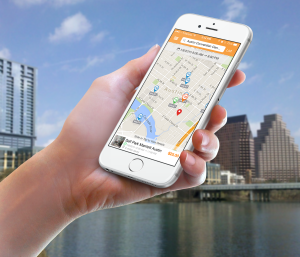 Parking Panda's free mobile app and desktop website lets drivers search and compare all available parking options for their destination in advance. The app provides filtering for daily, monthly or event parking. The driver gets an email confirmation to access their chosen location in advance.
"Currently we have 10 locations in Austin, mostly in the downtown, live on our platform, and like many cities, we're planning to expand rapidly," Lozano said.
Parking Panda launched in San Antonio last year. It's building its partnerships and available locations in that city, Lozano said.
Parking Panda, based in Baltimore and founded in 2011, has raised $4.7 million in two rounds from two investors, according to its CrunchBase profile.