By SUSAN LAHEY
Reporter with Silicon Hills News
Eric Gould Bear didn't think
Weeva
would work for him. He loved the idea—a company that lets people upload stories and photos about a person or an event onto a website, push a button, and out comes a beautiful coffee table book. Cool. Great for regular people, but not for him.
"I'm a designer by trade," he said. "I'm very hands on with the things that I'm involved with…my wife makes all the photo books in our family on different topics celebrating the kids, pets, house, whatever….my father does the same thing. He spends tons of time. They're a huge labor of love."
But as a Capital Factory mentor and Weeva investor, Bear decided he needed to "eat his own dog food" and he commissioned a Weeva book for his parents' 50th wedding anniversary.
"I'm a pretty fearless guy," Bear said. "I invest in crazy things. But I had some insecurity around getting started on this."
He invited 32 people, aged four years old to 80 plus to upload their stories, memories, photos on to the site as collaborators. But, beyond proofing the site for errors, he had no input regarding the completed project.
"The book came out absolutely gorgeous," he said. "It was an incredible 'aha' for me to see how liberating it could be to NOT do design."
A labor of love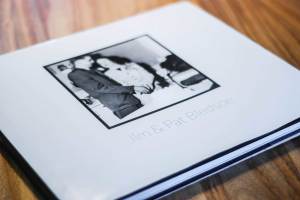 Weeva is the labor of love of Kim Gorsuch. A long time business strategist, she was one of IBM's first executive consultants for its customers. She worked as senior vice president in charge of strategy for Lending Tree, helping grow the company from $200,000 in revenue to more than $750 million and she was senior vice president of strategy for IAC and SVP of operations for Rev Worldwide. So she's always worked at intrapraneurial-type ventures and always looked for an idea for her own company.
But then her father fell ill with Myocarditis, an inflammation of the heart. All his organs failed in one day.
"I realized we were going to lose him and lose all his stories and memories," Gorsuch said. "I didn't want that to happen. People came out of the woodwork saying 'What can I do?' There wasn't really anything they could do, so I asked them to tell him a story about how important he was in their lives. That…would make a big impact for both them."
That was where the idea for Weeva was born. Originally, Gorsuch said, they thought they would have customers create their own books, as other companies do—like Mixbooks. But then they changed the plan.
"It's hard to do," she said. "It's often too tedious and too time-consuming for people to do on their own."
Instead, they would create a unique user experience, letting customers invite participants to contribute stories and photos, then and Gorsuch and her designer, Tuscan Knox, would be responsible for the final product. There's a little bit of tech and a little bit of hands-on design in the final book, Gorsuch said.
Everybody's got memories
Her first project was an anniversary book for a friend in one of her business networking groups. Jim Bledsoe had planned to do an anniversary book for his parents and begun the process but when he met Gorsuch he thought of giving Weeva a try.
"I asked her 'How many of these have you done?' and she said 'You would be my first,'" Bledsoe recalls. "Kim has a great business career and background and with the combination of her experience, her personality and her vision…the way that hit me was 'Okay, I'm willing to be the first.'"
"The book met my vision and exceeded my expectations," he said.
Weeva is a Capital Factory Accelerator program that's largely been bootstrapped, had a little friends and family funding and is now working on its first real funding raise. Capital Factory has started its own Weeva book. Weeva's stretching its ideas of its audience. It did one book for someone turning 21. And it has done books for organizations and events.
Recently, it did a book for Leonard Cohen. The book wasn't commissioned by him, but created by Gorsuch and others who felt like Cohen had impacted their lives. He sent Gorsuch a note, calling the book "amazing." Book prices range from $100 to $250.
"We're about connection, meaning and creating things that are beautiful…." Gorsuch said "We still want to make money but we're super focused on delivering something that touches people deeply…. People's stories are important. We race through life assuming they're always going to be there, but they're not. We make it easy to memorialize them…. The person begins to know 'My life has mattered.'"