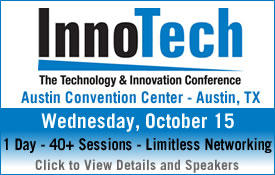 InnoTech Austin kicks Off Wednesday morning with a keynote speech on fostering entrepreneurship, technology and innovation.
The talk features Bob Metcalfe, Professor of Innovation at UT Austin, Laura Bosworth, CEO and Co-Founder of TeVideo BioDevices and Michele Skelding, senior vice president Global Technology and Innovation at the Austin Chamber of Commerce.
A Women in Tech Summit begins at 9:10 a.m. and features a full day of sessions and talks from powerful women in technology throughout Austin discussing everything from overcoming barriers to innovation to effective communications strategies.
In addition, the Beta Summit returns to InnoTech at 11 a.m. and features a handful of promising young startups. Bryan Menell of AustinStartup.com will moderate that event.
InnoTech Austin, sponsored by Presidio, is the longest running standalone technology conference in Austin. The 11th annual event includes full day data and analytics track, full day security track. It also features sessions on IT Leadership & Strategy, Healthcare IT, Cloud technologies and mobility, CIO Gala luncheon and the Austin Digital Marketing Summit.
Tickets are still available. And make sure to pick up a copy of Silicon Hills News' latest print magazine at the conference, which will be held at the Austin Convention Center.