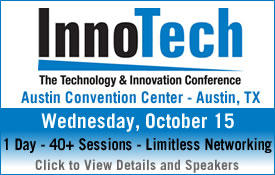 Innotech Austin, the largest information technology conference in Austin, will hold its Beta Summit to showcase six of the area's hottest startups. To attend, you must register, but you can use the discount code "JULY."
The event will take place in Room 8AB at 11 a.m. on Oct. 15th at the Austin Convention Center. Bryan Menell, managing editor of Austinstartup.com is the host.
Burpy – A University of Texas Longhorn Startup company formed by five undergraduate students. The grocery delivery company is available in Austin, San Antonio, Houston and Dallas. It recently graduated from the Techstars Austin program.
Clarify.io – The company recently rebraded from OP3NVoice. It has created an API media search platform. Its technology allows people to search through video and audio files easily using keywords. The startup is backed by Projector Capital and angel investment. It is an alumnus of the Techstars London program, Fintech Innovation lab and the BBC Media Lab.
Patient IO – The patient portal allows doctors and other caregivers to put information about the patient's treatment online, including doctor recommended homework and medicine and deliver it to the patient's smartphone. The company, previosuly known as Filament Labs, was part of the inaugural Techstars class in 2013. It has raised about $1.2 million to date.
Pingboard – Launched in January, this startup focuses on creating an office management platform for small to medium sized businesses. It has raised $1.25 million from Silverton Partners and local angel investors. Pingboard spun out of Capital Thought, an incubator founded by Bill Boebel, Joshua Baer, co-founder of Capital Factory and Jason Cohen, cofounder of Capital Factory and founder of WP Engine. The company has created a company directory, vacation calendar and employee database platform.
Thread – A recently launched online dating service for college students at the University of Texas at Austin. Zach Dell founded the site and Lander Coronado-Garcia serves as its CEO. The company plans to expand to other colleges.
WingUp – "WingUp's mobile app makes business travel more productive, efficient and enjoyable by connecting travelers with who they know, could know or should know, wherever they are."
Innotech is a sponsor of Silicon Hills News