By LAURA LOREK
Founder of Silicon Hills News
The latest Techstars Austin class showed off their hustle, determination and maturity at Demo Day Wednesday.
All of the startups already have customers, revenue and market traction.
Bob Metcalfe, professor of innovation at UT, introduced Burpy, a grocery delivery service formed by five friends at UT. He recounted a story about how they went to his office to show him their minimum viable product.
Metcalfe listened to their pitch then spun around in his chair, called up their site, Burpy.com, on his computer and ordered a case of Diet Coke.
A few minutes later, a mobile phone rang and one of the guys answered it and then jumped up and ran out. A half an hour later, he returned with Metcalfe's Diet Coke order.
Burpy became a member of the Longhorn Startup class at UT. During the course, they earned As, recruited employees, got customers and revenue and they started expanding to San Antonio and Houston, Metcalfe said.
Metcalfe introduced Aseem Ali, CEO of Burpy. Burpy was one of 11 Techstars companies that pitched their ventures to investors, press and others at Techstars Austin Demo Day at the Austin Music Hall.
Like all of the Techstars companies, Ali's pitch came off without a hitch.
"We've grown this business from our dorm room just over a year ago to more than $75,000 in gross monthly reoccurring revenue," Ali said.
Grocery shopping is a $600 billion industry and by 2018 home delivery will become an $18 billion business, Ali said.
Burpy faces competition from Instacart, Amazon, Wal-Mart to Go, Google Shopping Express and others. But it's focused on expanding throughout the Texas market and already has a strong foothold, Ali said.
"We are bringing the store to your door," he said during his pitch.
These Techstars Austin startups are the best class yet, said Jason Seats, managing director of the program. He has managed four Techstars programs including two in San Antonio for the Techstars Cloud program.
The latest Techstars program also featured many female entrepreneurs including Claire Vo, co-founder and CEO of Experiment Engine.
"We help businesses make more money by enabling them to run A/B tests designed by conversion experts," Vo said.
A/B testing is testing two versions of a website to see which one appeals more to customers, Vo said.
"By not testing enough, companies are leaving tons of money on the table," she said.
Experiment Engine gives its customers access to a marketplace of conversion experts, Vo said.
"We believe this is the future of work pairing technology with human expertise," Vo said.
Julia Jacobson, co-founder and CEO of NMKRT, pitched her New York-based startup, which creates revenue streams for influential independent publishers by turning their content sites into stores.
"Publishers are the retailers of the future," Jacobson said. "We make this a reality today."
And Daina Linton pitched Fashion Metric, which she co-founded with her husband Morgan. The company employs a proprietary algorithm to help online shoppers find clothes that fit.
This year, more than half of the companies also plan to make Austin their permanent home. Burpy and Experiment Engine are already based here. Pivot Freight plans to move from Arizona. Cloud 66 is relocating from London. Fashion Metric has extended its lease and is considering a permanent move.
Every Techstars company that stays in Austin gets a $20,000 investment from Joshua Baer , co-founder of Capital Factory and Rony Kahan, co-founder of Indeed.com.
"My big focus is on growing the Austin community and getting great entrepreneurs to come here and stay here," Baer said. "I wish I could invest in all of them, but my focus is really on Austin-based companies."
Baer also commented this is the best Techstars class so far.
"I think it's really a diverse class," he said. "Each of the companies has traction. They've got customers and revenue. They're really in market. It's a very, very strong class."
Josh Kerr, CEO and co-founder of Written, served as a mentor to NMKRT. He was extremely impressed with the startup and the entire class of Techstars Austin.
"They are all extremely talented," Kerr said.
"This class had a lot of rough edges in the beginning but they all shaped up into great companies," Kerr said.
Kerr plans to invest in several of the companies, but he declined to say which ones.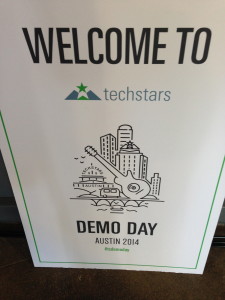 During a break in the Demo Day presentations, BrewBot provided refreshments to the audience with its IPA Demo Day beer. The company, founded by five friends from Belfast, Northern Ireland, makes a personal home brewing robot.
BrewBot has a mobile phone app and specialized hardware machine that lets people chose a recipe and ingredients to brew beer in its home brewing robot. It works for everyone from master brewers to novices, said Chris McClelland, its CEO.
"BrewBot creates the ultimate brewing environment that is limited only by your imagination," McClelland said. "This magical machine turns beer lovers into beer makers."
The Techstars 2014 Austin class:
Brewbot – A beer brewing robot controlled and monitored by your smartphone.
Burpy – Delivering same-day groceries and home essentials from a variety of local stores.
Cloud66 – Deploy and manage Ruby apps on any cloud.
Common Form – Do your taxes in 5 minutes from your pc or mobile device.
Experiment Engine – A/B testing with a marketplace of conversion experts.
Fashion Metric – Using big data to enhance fit and sizing for apparel retailers and brands.
Free Textbooks – Equips student influencers with software to replace their bookstore.
LawnStarter – The easiest way to order and manage lawn care.
NMRKT – Powering eCommerce for blogs, online magazines, and content creators.
Pivot Freight – Rate comparison engine and discount broker for freight shipping.
Smart Host – Intelligently price your short-term and vacation rental.