BY LAURA LOREK
Founder of Silicon Hills News

In a corrugated steel shotgun shack on the east side of Austin, Clarify launched its media search platform last week.
The compound on Pedernales street where Clarify works is a cluster of warehouses, which used to store medical supplies, and now house tech startups as well as artists, graphic designers and a bike shop.
Inside the shack, Clarify has cut skylights into the roof and windows into the walls to let in the light. To give the space a more festive atmosphere, they've strung red Chinese lanterns from the ceiling along with recently installed ceiling fans and strings of lights.
Giant cloth sacks cover tiles embedded onto wooden frames to act as makeshift soundproofing walls and room dividers. Stacked cement blocks and plywood boards serve as standing desks along the wall. A refurbished chicken coop will soon provide a bookshelf.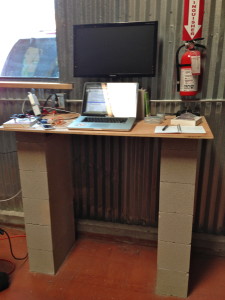 Every week, Clarify, which recently rebranded and renamed itself from Op3nvoice, hosts a happy hour in its offices. Clarify has six employees and is looking to hire a back-end developer.
Last week, Paul Murphy, Clarify's CEO and co-founder, sat down with Silicon Hills News to talk about the company, which moved to Austin from London last year and has big plans to dominate the market for video search.
Clarify wants to deliver complex audio and language processing technologies via its simple application-programming interface, known as a API, which provides programming instructions for using a Web-based software application. With Clarify's API, developers can search audio and video archives easily and quickly. The Clarify API translates the audio and video into text documents, which can then be searched using keywords.
Clarify made its media search platform available for all developers to integrate multimedia search into their applications in any common programming language.
In the U.S., Clarify is talking to developers in a wide range of industries including telecommunications and media.
Clarify has been in private beta for the past four months with nearly 300 companies testing its software, Murphy said.
"Anybody can now come and sign up," he said.
Clarify has a lot of companies testing and evaluating its software. It begins charging customers at the end of the month, Murphy said. The company makes money by charging developers to run their data through its platform, he said. The developers send their media, Clarify does the analysis and then they can search it, he said.
"We are completely focused on the API and we don't have any intention to build any system," Murphy said.
One of its users, Mobento, an online education platform, makes video available to students on any device. It uses Clarify's technology to help its users find the exact moment they are looking for in a video by using keywords.
This year, Clarify was one of six companies selected to be in the BBC Media Lab.
"What this gives us is really privileged access to people within the organization," Murphy said.
With Clarify's search technology for audio and video, the BBC can make their content discoverable to themselves as well as the public, Murphy said. Right now, the company's identifying projects within the BBC and it is looking for partners to deploy its technology, he said.
"It's a long process," Murphy said. "Media companies don't do things over night."
Clarify is selling to developers in any industry, Murphy said.
The company launched out of Techstars London and wanted to be in another city with the Techstars community in the U.S., Murphy said.
"Austin has the best reputation internationally," he said. It's easy to recruit people to move to Austin, he said.
Clarify has quickly integrated into the Austin tech community. It recently joined the Capital Factory Incubator. And Sam Decker, one of the founders and former CEO of Mass Relevance and executive with Bazaarvoice, has joined the company's board of directors.
"Sam is a really great addition to the company because he comes from a space none of us knows," Murphy said. "I happen to have a background in telephony and finance."
But a lot of things in the social space are moving to audio and video and they're looking for tools to turn that into data, Murphy said. A searchable database of videos would make it much easier for advertisers to find content they would like to sponsor, Murphy said.
Someone has to build tools to keep track of all the audio and video content being created and Clarify has the solution, he said. In five years, searching video and audio will be easy and natural, Murphy said. But right now, it's difficult and cumbersome and Clarify's technology solves that problem, he said.
Projector Capital and several prominent California and Texas Angel investors fund Clarify, which is currently raising $1 million in seed funding. The company already has more than half of it committed, Murphy said.