By LAURA LOREK
Founder of Silicon Hills News
In December of 2011, Facebook bought Austin-based Gowalla and relocated a bunch of its workers to Menlo Park.
Sherry Birk, director of recruiting at Gowalla, moved with them. She later left Facebook to join another startup: Dropbox, based in San Francisco. But Birk longed to get back to Texas.
Her wish came true last year when Dropbox announced plans to put an office in Austin.
Birk joined about ten Dropbox employees who left California to relocate to Texas and set up the Dropbox Austin office. Dropbox also has offices in New York, Dublin, Ireland and Sydney, Australia.
Today, Birk serves as the director of recruiting for Dropbox in Austin. The company now has 50 employees with plans to hire another 150 by the end of next year.
"I love the Bay Area but I love Austin more. I just couldn't wait to get back here in general," Birk said. "I'm just excited to build something here."
And Dropbox is doing just that. It's going to move into a five-story building at Fifth and Congress, which is under construction. The company plans to occupy three of the floors or approximately 58,000 square feet. Move-in date is set for next January.
"It's an anchor for downtown," Birk said.
Meanwhile, Dropbox occupies two floors in the skyscraper next door.
"I think being downtown is just another thing that attracts people. People don't want to spend a lot of time in their cars," she said. "We're recruiting top talent and they have a lot of choices. We want to make it an easy choice for them."
Increasingly, in Austin, tech companies put their offices downtown so their employees can live, eat and play within walking and biking distance of their workplace.
Dropbox has hired experienced people as well as new college graduates from the University of Texas with liberal arts degrees, Birk said. The company is looking to fill sales and operations jobs. The office handles Dropbox for business customers and serves as the gateway to Latin America. About 70 percent of Dropbox's customers are outside the U.S.
Dropbox is an online storage site that allows people to share photos, documents and videos from anywhere easily. The company offers a free consumer version of its service. It also charges for its business features and professional features.
Drew Houston and Arash Ferdowsi, two MIT students, founded Dropbox in 2007 to share large files online.
Today, Dropbox has more than 300 million customers including four million businesses ranging from photographers to construction companies. Some of its customers include Vita CoCo, Kayak, Foursquare, National Geographic, Spotify, Eventbrite, Paul Mitchell and Under Armour.
Last December, Dell announced a partnership with Dropbox. Dell offers Dropbox for Business to its customers via its global sales team.
Dropbox focuses on maintaining its corporate culture in Austin, Birk said. One of the company's core values is being humble, and hiring humble people, she said. The company also has big ideas for outfitting its new headquarters with Austin artwork and other amenities. Its workers host Ping-Pong and tabletop shuffleboard tournaments. They have regular Yoga and bootcamp sessions at work and a running club. Cater2.me brings in meals from local eateries to their fully stocked kitchen. They also have flexible workstations that allow them to either stand or sit at their desks. And a group of employees spent a hackathon weekend crafting a custom wooden bar. It is now in a corner of the office where they host cocktail Fridays. They also have lots of musicians on staff and plan to enter the Austin Technology Council's battle of the bands contest during Austin startup week.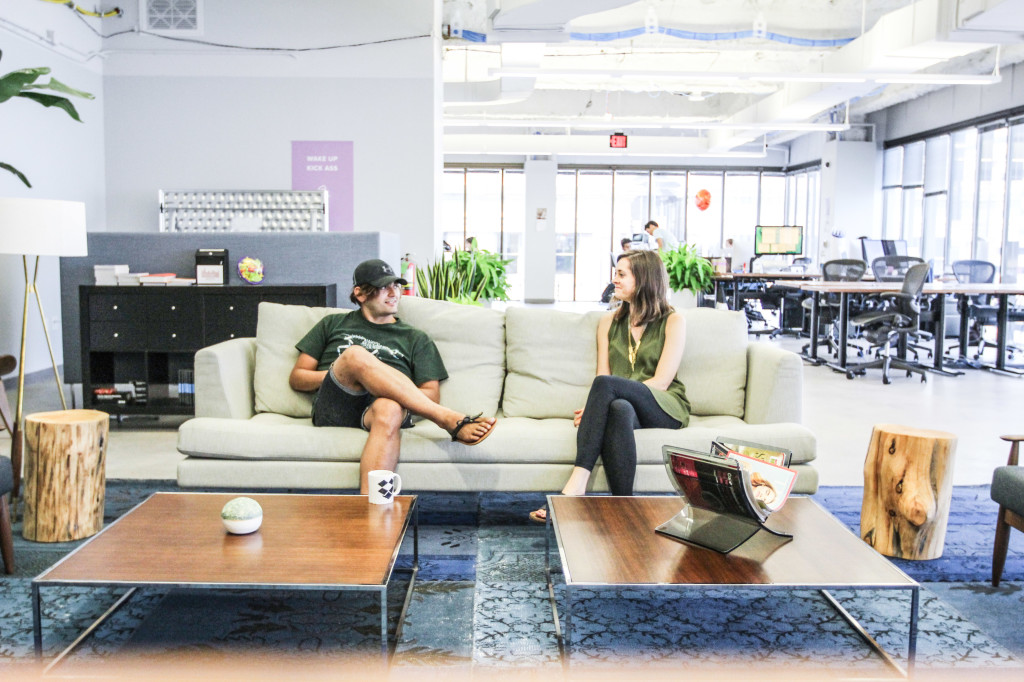 Earlier this summer, Dropbox ended its incentive package agreement with the City of Austin worth $244,500 during the next 10 years. It also received a $1.5 million Texas Enterprise Fund grant to expand in Austin. Despite ending its incentive agreement with Austin, Dropbox is continuing to expand and hire locally.
"We're really excited to be in Austin," Birk said. "We definitely have plans to get to that 200 number. We're here to stay."