Founder of Silicon Hills News
Countless workers face the same problem every day when they get to their office.
What's for lunch?
Cater2.me aims to solve that problem for companies and their employees in Austin.
The San Francisco-based startup launched last month in Austin and now has nine employees in its local office. The bootstrapped startup with 60 employees nationwide also has operations in New York, Boston, Chicago, Washington, D.C. and San Francisco.
Cater2.me expects to have between ten and 15 employees in Austin by the end of the year including sales staff, operations team and managers.
While some large companies have personal chefs and built out kitchens, many startups do not have those kinds of facilities. That's where Cater2.me comes in. It caters lunch for startups and small to medium sized businesses.
The company, founded in 2010, built an order management system that helps gather and hold preferences for clients including budgets, menus and other attributes but its "secret sauce" is in how all of that gets mashed together.
The startup was born out of a hunger for diverse food at lunchtime.
"My business partner Zach and I were working for financial services companies," said Alex Lorton, co-founder of Cater2.me. The company brought in lunch daily, but the food was kind of bland and boring like turkey sandwiches and mixed green salads, he said.
"I didn't like to complain about a free lunch," Lorton said.
But Lorton and Co-Founder Zach Yungst thought they could do a better job. They found local vendors and assessed whether they could handle a large catering order and handle the service side. They worked a lot with local mom and pop restaurants and food trucks.
"Startups and tech companies are a large segment of our customer base," Lorton said.
Providing lunch to employees can help a company build its corporate culture by encouraging employees to bond over a good meal and it can positively impact productivity, Lorton said.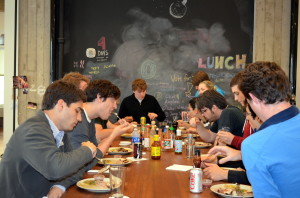 "That shared table is kind of the modern day fire pit," Lorton said. "It's where people gather and share stories."
Cater2.me's role is to help companies manage the whole process of having a food program. Its only requirement is a minimum of ten people.
For example, if a 75 person company wants to get lunch on Monday, Wednesday and Friday and offer different types of food along with vegetarian and gluten-free options, Cater2.me takes the hassle out of all of that. Its current Austin-based clients include Dropbox, Atlassian and Indeed. A few of the local eateries they are working with are Regal Ravioli, Hot Mamas Café, Austin Daily Press and Roll On.
"Whenever we move to a new city we look for a couple of things – a lot of growth and an active tech community," Lorton said. "That's something Austin has in spades. We also look for a really great food community – a lot of food trucks and food festivals. We don't want to go to a city with all they have is chain restaurants."

Cater2.me also has its eyes on Houston, Dallas and San Antonio for future expansion.

By LAURA LOREK