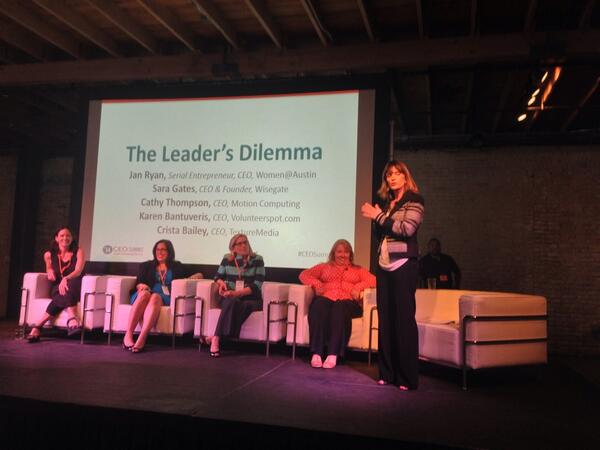 By LAURA LOREK
Founder of Silicon Hills News
A panel of women entrepreneurs in Austin managed to find funding for their ventures despite the odds being stacked against them.
"There's no ratio or statistic that has gotten in their way," said Jan Ryan, serial entrepreneur and CEO of Women@Austin.
That panel at the Austin Technology Council's CEO summit included Sara Gates, founder and CEO of Wisegate, Cathy Thompson, CEO of Motion Computing, Karen Bantuveris, CEO of Volunteerspot.com and Crista Bailey, CEO of TextureMedia.
"One of the best kept secrets in Austin right now is the talent around entrepreneurial women," Ryan said.
She has made it her mission to shine a spotlight on the success of women entrepreneurs in Austin. Last year, Ryan noticed that the ATC CEO Summit had few women presenters and only a handful of female CEOs in attendance. She worked to change that and organized the panel for this year's summit.
Ryan along with 16 other successful female entrepreneurs created Women@Austin, an organization with the goal of making Austin the most successful and supportive city in the nation for women.
"It's not just good for women," Ryan said. "It's good for economics."
Women launch 1,288 new businesses daily, double the rate from three years ago, according to the 2014 State of Women-Owned Business Report, commissioned by American Express OPEN. Those are primarily small businesses, Ryan said.
But Harvard recently did a study showing the number of women led big businesses with $10 million or more in annual revenue has grown by 57 percent in the last 12 months, Ryan said.
"There's a movement afoot we can leverage," she said.
The impact diversity has on profitability and the effectiveness of a team is huge, Ryan said. The company that has a balanced management team with even a single woman on the team is poised to perform better, she said.
Yet women-run firms received just an estimated 5 percent of the $29.4 billion invested by venture capitalists in 2013.
A big part of the success for female entrepreneurs is having a good mentor, Ryan said. Studies show women with a mentor are seven times as likely to succeed, she said. She asked the panelists who mentored them.
For Gates, her mother, a former opera singer, served as her mentor and told her she could do anything her brothers could do. That foundation helped her found Wisegate, an IT research firm. She also had a strong local mentor, Mark McClain, CEO and Founder of SailPoint Technologies and her former boss.
Bailey with TextureMedia, which runs web sites for women with curly hair, mentioned Jimmy Treybig, founder of Tandem Computers as her mentor. He is also an investor in the company and serves as its chairman of the board.
"He has tremendous empathy for entrepreneurs," she said. "He also has innate belief in the good in people. He believes in men and women working together to create great companies."
Bantuveris, founder of Volunteerspot, a leading coordination tool for moms, gave "props to the Austin community in general." She called herself an accidental entrepreneur.
"I don't think I could have started up a company anywhere else but Austin," she said. "Everybody was so welcoming and they wanted to listen to what we were trying to do."
Thompson, CEO of Motion Computing, a rugged laptop company focused on the enterprise market, said she has had several mentors. In particular, Michael Dell let her move from the finance department to run a division of Dell. She also mentioned Rudy Garza at G-51 Capital and David Altounian, founder of Motion Computing.
Landing venture capital can be a huge challenge for any entrepreneur but female entrepreneurs face some unique challenges when pitching women focused startups to a room full of men.
At first, Bantuveris bootstrapped her venture and then she received seed funding from the Central Texas Angel Network and additional capital from a nationwide network of angels.
"What's fun for me is to say go home and ask your wife," Bantuveris said, about the need for an organizational tool like Volunteerspot for moms. There aren't that many women venture partners, she said. Venture capitalists tend to fund what they know and understand and what they are comfortable with, she said.
TextureMedia, received funding from CTAN in 2007, and additional investment from Golden Seeds in New York.
"You've never lived until you've tried to raise money for a platform for women with curly hair and you're standing in front of a room full of men," Bailey said.
Motion Computing, founded in 2001, is about to start raising outside capital, said Thompson.
"We see a huge market and growth opportunity," she said.
She said when it comes to raising outside capital, you can't take it personally.
"There's times where you're going to be a good fit and times when you're not going to be a good fit," she said.