By LAURA LOREK
Founder of Silicon Hills News
Can Austin produce a thunder lizard, a $100 billion tech startup?
Mike Maples Jr., managing partner of Floodgate Ventures in Palo Alto, thinks so. He wants Austin to hatch what he calls a thunder lizard in the next 10 years.
Bob Metcalfe, professor of innovation at the University of Texas at Austin, creator of Ethernet and founder of 3Com, quizzed Maples about thunder lizards and Austin's entrepreneurial ecosystem, during a fireside chat at the Austin Chamber of Commerce's A-List awards event Wednesday night.
"The metaphor comes from Godzilla," Maples said. "Godzilla was half radioactive from atomic eggs and swam across the ocean and emerged with an attitude and began destroying things breathing fire on things, swiping buildings, eating on cars and trains like they were sausage links and that always just struck me as the right metaphor for a startup."
"A startup that is great should try to be a thunder lizard," Maples said. "It should be an attacker, not a defender. It should be adaptive.''
Google and Microsoft are thunder lizards and Twitter is a thunder lizard in the making, Maples said.
Metcalfe asked him if there are any thunder lizards in Austin.
Maples said at times Dell has encroached on that title, but he said there's an opportunity for more here.
What does Austin have to do to get more? Metcalfe asked.
"I've surveyed the infrastructure pretty systematically and I think we're doing really well – we're firing on all cylinders as I'm fond of saying," Metcalfe said. "So what do we have to do differently to get some thunder lizards?"
First, Austin needs to believe it can happen, Maples said. He first mentioned the idea of creating a thunder lizard a year ago at the Austin Technology Council's CEO summit.
"My manifesto is Austin creates a $100 billion exit in the next 10 years," Maples said. "Some people would say $100 billion you're smoking weed, that's crazy."
But Google is worth more than $300 billion, Maples said. Facebook is worth more than $150 billion, he said. Cisco and Microsoft and Apple, were worth more than $500 billion each at one time, he said.
"A lot of people I talk to in Austin don't really believe it can happen yet," Maples said. "In order to have $100 billion outcome, you have to be willing to try to go after the exponential game-changing ideas. And we need to have a community that supports that. We need to have a community that doesn't call those people crazy and whacky and stupid but sort of roots them on and cheers them on."
Silicon Valley knows it can do it because it has Google, a thunder lizard, but Austin doesn't have one, apparently, Metcalfe said.
"So how do we get to believe we can?" Metcalfe asked.
Maples said he doesn't have the answer. But he looks for change events that are even bigger than the company, Maples said. For example, Microsoft was started in the era of the microprocessor and Bill Gates envisioned that hardware would be a commodity and software would be the rare, valuable resource, Maples said.
"Most of the startups I've seen that have that potential to be super huge they find some tectonic shift in the technology landscape that's bigger than any one company," Maples said.
Then the entrepreneur has some proprietary insight and then they go build a company around that, he said.
Maples invested early in Twitter and it's evolving to become a thunder lizard. Some of the ideas sound kind of crazy early on, Maples said.
The founders of Twitter were either going to call it Voicemail 2.0 or Twitter, Maples said. The founders explained that Twitter didn't have a roadmap or revenue model but that it was a micro-blogging service that let people say what they were doing in 140 characters or less. Yet Jack Dorsey and Evan Williams were able to explain the potential that blogging and self-expression is a big idea and that they expected millions of people to use the platform.
To create a thunder lizard, an entrepreneur has to have "a non-consensus but correct view of technology transformation," Maples said.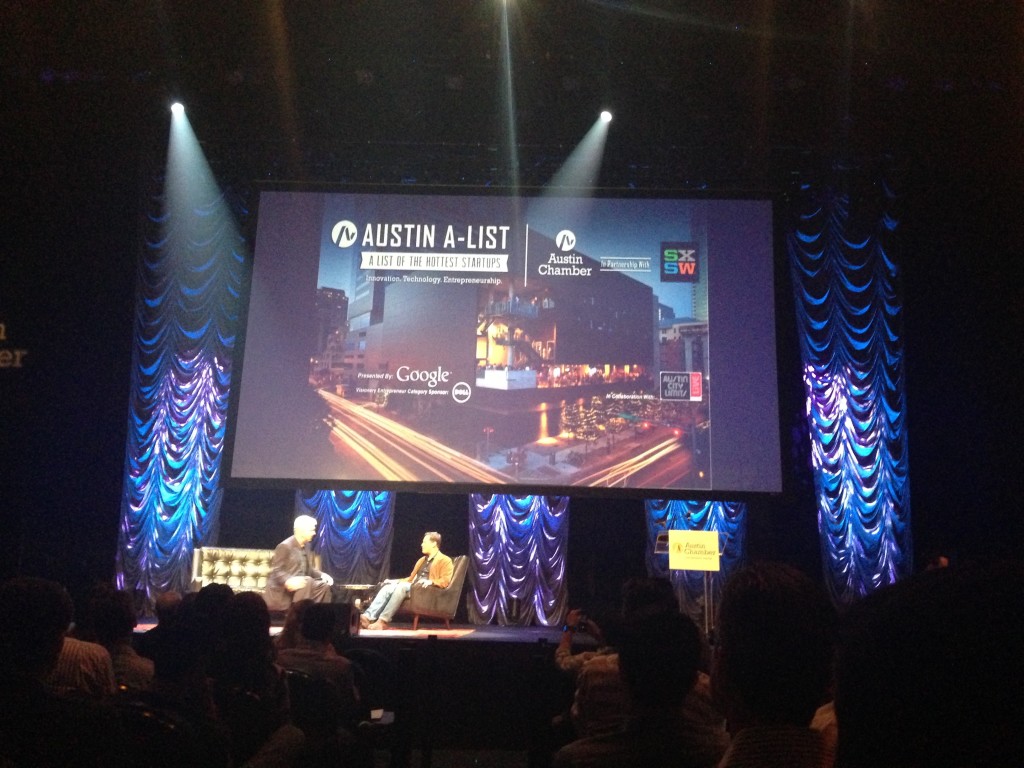 Maples looks for an "entrepreneur who is such an authentic match to a technology change it's almost like they couldn't do any business but that business. Too many people when they start a company are just doing a startup. They are not doing the kind of startup that could be their life's work."
For example, Ethernet was Metcalfe's life work so it made sense for him to found 3Com, Maples said. He was moved to start something because he had fundamental insight the rest of the world didn't see, he said.
"I used to say the answer is Ethernet, what is the question?" Metcalfe said.
Metcalfe asked Maples if Austin's thunder lizard might crop up out of the new Dell Medical School at UT.
The potential areas of "atomic eggs" or radioactive eggs to hatch the thunder lizards in Austin are from the new medical center or from Google's super fast Internet broadband network, Maples said.
One area that could possibly create a thunder lizard is in the area of genetic engineering, Maples said.
The question is when will someone drop out of UT to create the next thunder lizard, he said.
Metcalfe said he didn't encourage people to drop out of UT and that he finished his undergraduate degree at MIT and graduate degree at Harvard and was still able to create a game changing technology and company.
Going back to the topic of thunder lizards, again Metcalfe asked how does Austin encourage them.
"In Austin, we continue to up our game, we continue to add fuel to the fire, we keep adding cinders to the fire," Maples said. "I would like to see the belief we can create a $100 billion outcome become more mainstream. I would like to see us do things as a community to encourage that outcome."
Maples said he will come to Austin more often to work with Metcalfe on incubating "radio active eggs."
The talk ended with Maples, who got choked up recalling being in high school and reading about Metcalfe and his Ethernet invention, told Metcalfe he just wanted to thank him.
"Well you're welcome," Metcalfe said. "And that's sort of the difference between you and me because I can't remember when I was in high school."