BY LAURA LOREK
Founder of Silicon Hills News
Don't put too much pressure on picking a particular career in college, said Bobby Epstein, founder of the
Circuit of the Americas
.
"You might pivot a couple of times," he said.
Epstein gave that advice at Longhorn Startup Lab's Demo Day Thursday night to hundreds of people at the Lady Bird Johnson Auditorium. Bob Metcalfe, professor of innovation at UT, interviewed Epstein, who runs COTA, a Formula One racetrack and one of the largest startups in the Austin area. He quizzed Epstein about his entrepreneurial background and asked him what advice he would give to aspiring student entrepreneurs.
"The best advice you can give anyone as an entrepreneur is to be prepared to work 70 hours to 80 hours a week," Epstein said.
It's ok to risk everything, Epstein said. "But don't risk more than that."
Too many people start undercapitalized businesses.
"It's great to be ambitious and start a business but don't risk everything you have to start something that's undercapitalized because that's potentially a formula for failure," Epstein said. "Don't think that when you get to that next point the next dollar is going to be there. I think that's really important before you spend it all."
Epstein, a UT graduate, was born in New Jersey, but grew up in Dallas and spent time in Indianapolis. His father was an engineer, inventor, and entrepreneur and worked at Bell Labs.
He didn't have a lemonade stand but he did host a carnival in his backyard. And he ran a DJ business in high school.
Epstein attended UT in 1983 and graduated with a degree in Liberal Arts. When Metcalfe asked him if he knew Michael Dell, who founded his company at UT in 1984, Epstein said no.
"He was a year ahead of you," Metcalfe said.
"In many ways," Epstein said.
Epstein didn't start a company in college. But he did drop out of medical school. He ended up working on Wall Street on a bond-trading floor doing research. He created predictive and regression models on trading patterns.
"It was supposed to be a summer job," Epstein said. He liked the job and he worked a lot of hours. He decided not to go to medical school and he continued working in the bond trading industry. He ended up working on mortgage derivatives and in 1992 he founded a broker dealer. He sold that business with 100 employees in 1995. He founded a new business, Prophet Capital Asset Management, and moved it to Austin in 1997 and has had 19 years of steady growth. His hedge funds manage more than $2 billion, according to a Forbes article.
"So this business was so successful that you were able to consider founding and financing COTA," Metcalfe asked.
"Yes," Epstein said.
"Can you tell us how that happened?" Metcalfe asked.
He met a guy who wanted to bring Formula One to Austin and Epstein thought that was a terrible idea. But he had a piece of property he bought in 2005 in Southeast Travis County that Epstein planned for houses. Instead, he pivoted. He turned what would have been a residential development into a racetrack. Today, that piece of property is about 20 percent of the land that COTA sits on. The 3.4 mile racetrack is on a 350 acre development. It also includes an amphitheater, which can accommodate up to 14,000 people.
The Circuit of the Americas got its primary funding from San Antonio Billionaire Billy Joe "Red" McCombs along with Epstein's contributions. The state of Texas, through its Major Events Trust Fund, also pledged millions to the project.
Since COTA has been in business for a year and a half, it has had an economic impact of $1 billion, Epstein said. It has also raised the global profile of Austin, he said. And it has created lots of jobs, he said. COTA has 100 year-round employees and thousands that come in to work for events. The project costs $400 million in construction, the two Formula 1 races have generated $250 million to $300 million each in economic impact and the track has hosted more than 1.4 million people, Epstein said. And 250,000 have come in from outside Texas.
"A billion dollars in revenue in a year and half. Doesn't that make you the biggest startup in Austin?" Metcalfe asked.
"It's not all our revenue," Epstein said. "That's the only thing. We have two revenue streams. One revenue stream that goes to everyone else and one revenue stream that goes to COTA."
"Let's call it gross revenue," Metcalfe said.
COTA does encourage people to come in from out of state and spend money, Epstein said.
"We get the people with the biggest pockets and have them come here and empty them out…if they have a great time they'll come back," Epstein said.
COTA isn't yet profitable but it has helped the local economy tremendously, he said.
The racetrack is betting on other events such as the X-Games and concerts at its amphitheater, which will host a Jimmy Buffet concert next month, to push it into profitability.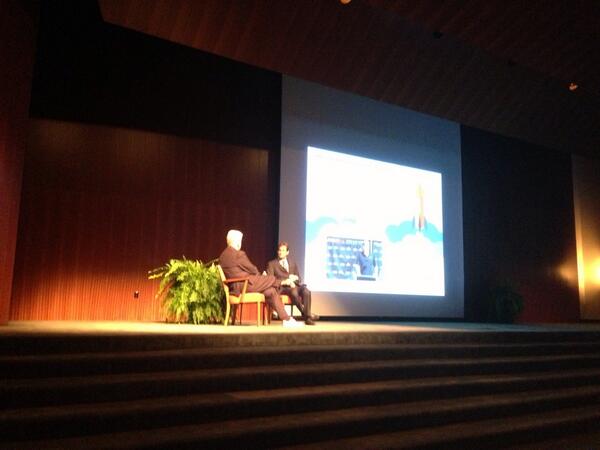 Metcalfe also asked Epstein about all the technology used in the cars and said that's one more reason COTA is a high tech startup. The criteria for a fast car, according to a Ferrari car designer, are a fast engine, aerodynamic design and high-tech wheels, Metcalfe said. He didn't mention the driver, he said. He asked if there would a driverless robotic car race or an electric car race.
Epstein said he didn't think the drivers were expendable. They have tested driverless cars on the track though, he said. And they have raced electric and solar vehicles there also.