By SUSAN LAHEY
Reporter with Silicon Hills News
At a restaurant like Swift's Attic, when someone is an especially good customer—perhaps because they come in a lot, host big parties or drink expensive Bourbon– you don't reward them with a punch card good for a free muffin. You might send out a complimentary appetizer, said co-owner CK Chin, and you want to make sure it doesn't show up on the bill. You might slash their wait time. You might give them the table they prefer. But with 60 percent turnover in the restaurant industry, there's a good chance that if the owner's not around, the hostess won't have a clue whether the guy who walked in is a big spending regular or transient who eats nothing but salad and bread sticks. That's part of the idea behind
Mahana.
If a restaurant uses Mahana, and its customers download the app, the restaurant picks up a beacon that signals the customer is near and has a chance to invite him in for a special pairing of his favorite food and drink. If the customer walks in, Mahana lets the host know and gives information the restaurant has gleaned about the customer, meaning the host can welcome the diner by name, offer a favorite table or suggest a special based on previous purchases. Mahana also clues the customer about wait times for a table before the customer ever walks in. Mahana members can share what items they liked on the menu and especially loyal customers can expect perks, like a bump up the waiting list or an appetizer on the house.
In Praise of Market Validation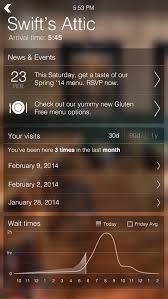 Mahana Co-founder Richard Bagdonas previously founded SpeedMenu, an ordering and payment app for the restaurant industry…and it taught him something.
SpeedMenu and other companies, he said, "saw a problem they were experiencing and went to solve it," Bagdonas said. "But they didn't ask restaurants whether their problem was shared by the restaurant. They thought 'I'm having this issue, other people must be having this issue, if I solve it, people are going to love it.'
With the founding of Mahana with serial entrepreneur Bryan Menell, Bagdonas began with market validation, asking restaurants about their pain points.
"Not once did they say paying by credit cards was a problem," he said. "They don't need you to order a beer or food on your phone, they have someone there to take your order. Just because that person might be busy doesn't mean they want to replace that person with something else…. Their biggest problem is there's a chair over there and nobody is sitting in it and nobody is buying food. If they don't sell the food, it has to get thrown out. They have the food. They have the staff and they have the chair that's worth maybe $40,000 a year."
Restaurants needed butts in seats. They needed people coming in, and people coming back, because the cost of acquiring a new customer is just as daunting for restaurants as for other businesses. They needed to be able to identify their best customers and to communicate with them in a way that doesn't burn them out.
Stuart Thomajan, co-founder of Swift's Attic and a partner in other popular restaurants such as Uchi and Delish, said that Mahana helps restaurants give valued customers that red carpet treatment, even if it's the hostesses first day.
"People will go through histrionics to show the hostess they've been there before. They'll say 'Is Stuart here?' or 'Do you have that table in the corner?'" Thomajan said. "They're trying to let the hostess know 'Hey, I've been here before….' When you're serving 2,000 people a week you don't always have the opportunity to know everybody. We want complete consistency in service. We want to make them feel special. I hoped somebody would develop this tool. Manaha gives us the opportunity to show customers the respect they deserve."
As a former bartender, Chin said, he cultivated the ability to remember customers' drinks. He uses that same skill to identify restaurant customers and reward them. Mahana adds "a superhero level of memory to my management." Nor do customers seem to feel it's "creepy" that the restaurant is keeping tabs on them. If the restaurant was doing it without getting their opt in. he said, it might be different. But customers treat this as a rewards program.
One of Mahana's more valuable features, Thomajan said, is that it lets him send emails selectively to customers who would be interested in special events or new menu items at the restaurant without barraging customers with mail constantly. He doesn't want to send customers emails about specials they wouldn't be interested in–like sending an email about a steak dinner to a vegetarian or news of a Bourbon special to an alcoholic. "The next time they get an email from Swift's Attic they won't open it," he said. Being able to build relationships with customers, he said "is huge to me."
Thomajan though is less excited about the feature that lets customers know how long the wait is before they even come to the restaurant. At Swift's Attic, it can be two hours.
"I'm not loving the idea that a two hour wait will be published to the world," Thomajan said.
From Southern California to Austin
Before starting Mahana, Bagdonas and Menell founded Subtle Data, a platform for point of sale API developers. But as Subtle Data, they said, they're "plumbers" setting up the infrastructure. They liked the idea of creating something customer-facing. As business partners, they complement each other. Bagdonas, Menell said, "won't let me code" because Menell's IT skills are more dated. But as Bagdonas talked, Menell pulled some documents off a fax machine, pushed them in front of Bagdonas and Bagdonas signed them without dropping a word or skipping a beat. He trusts Menell to be the business guy and "create a structure for the technology" so Bagdonas can keep his focus on software.
"I call him my work wife," Menell joked.
Both came from Southern California. But they didn't meet until they got to Austin. Menell was a senior tech consultant for Andersen Consulting working with clients like Apple and with Anderson Windows. After two years, he started his own consulting company Exact Consulting Systems Inc., (Exact stood for Ex-Anderson Consulting). It was the mid-1990s. Computers were still new and companies were beginning to adopt customer relationship management systems. Exact began to implement CRM systems for some of the largest call centers in the world, such as Gateway 2000. The company grew fast to $22 million in revenues. And then he sold it, in 1996 to BSG in Austin and that's what brought him to town.
Bagdonas grew up in Southern California and had been writing software since he was a kid. In high school, his teacher offered to teach a semester of Pascal. The students loved it so much, they wound up studying it for four years and writing programs that, Bagdonas has no doubt the teacher was selling to industry. At the age of 14, Bagdonas and some friends got interested in voice recognition. They worked tirelessly on creating a voice recognition program but eventually the project failed. For one thing, they had no money. For another, the technology just wasn't there. Later he realized voice recognition is still one of the hardest things for a computer. Too many words sound the same, even when spoken in a neutral accent. Add a regional accent and the opportunity for mistakes grows exponentially.
But Bagdonas had caught the entrepreneurial "bug."
"I realized, oh my God, you don't have to aspire to go work at IBM. You can aspire to be IBM. That's a beautiful thing," he said. "I'm very much the scientist but through business I get the opportunity to be creative."
At 16, he launched a mobile mechanic business, going to people's cars and fixing them wherever they had broken down. He wore fake glasses in an effort to look older. The business lasted five years and he employed three mechanics. His next venture was to learn to be a commercial pilot. His father, who died when he was 12, had been a pilot and Bagdonas was working his way through his licenses when he got in a horrible motorcycle accident. He needed 11 grafts, some with artificial skin. The damage was such that he was unable to pass the FAA's health screen for pilots.
He became assistant vice president and director of emerging technologies for Prosoft, a company that trained aerospace engineers to program. While there, he authored four books on data communications, telecommunications, the convergence of voice, video and data and data for sales people. Prosoft moved Bagdonas to Austin. Around 2000, Menell incubated one of Bagdonas' companies and Bagdonas built some support software for one of Menell's customers. Menell was an advisor with SpeedMenu and later left the Dachis Group to be CEO of Subtle Data.
Right now, they said, Mahana is going to work to "crush" the Austin market, though there are restaurants in Washington D.C. and New York waiting to get on the list. Thomajan said the founders are very responsive to every suggestion he makes as a customer. He and Chin will also be including Mahana in their new restaurant, Wu Chow.
Now, Mahana's wrapping up its seed round of financing and getting ready to expand. SXSW, they said, "was very good to us." The company won, among other things, the Silicon Hills News/Austin Technology Incubator and Central Texas Angel Network pitch competition, which entitles them to a series of stories about their entrepreneurial journey. So, SHN will be revisiting Mahana as they work on financing and expand their services.