By JONATHAN GUTIERREZ
Reporter with Silicon Hills News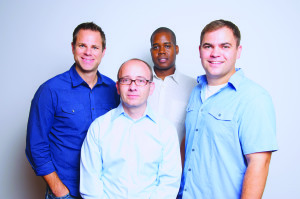 When the founders of TrueAbility were searching for a domain name, they wanted to find something that truly represented what they hoped to accomplish. The four of them wanted a name that spoke to not only the recruiters that used their product for screening job candidates, but also spoke to the IT professionals coming to their company to showcase their technical skills.
"We felt like (TrueAbility) worked for everyone involved, so we were excited about the name," said Luke Owen, Co-Founder and CEO at TrueAbility.
Owen, Marcus Robertson, Dusty Jones, and Frederick "Suizo" Mendler are all former Rackspace employees, and together founded the San Antonio-based startup in 2012. TrueAbility is a startup that provides IT professionals with a platform to demonstrate their abilities and make it easier for companies to see how qualified they are for a desirable tech job. Their offices are located at Geekdom, a coworking space and technology incubator, in San Antonio.
TrueAbility calls its product "AbilityScreen." It is a job simulator that assesses IT professionals and their ability to perform in a live server environment. Over the past year, TrueAbility sought companies to purchase its product and allowed those companies to administer the tests themselves. TrueAbility has decided to reposition its product and have companies purchase a job post on their website.
This new method lets IT professionals browse through a list of companies and interview directly with any company who has a job posted on the job board. Each company listed offers the chance to interview on demand, so job seekers can take the assessment from anywhere at any time. Within seconds of completing a live technical interview, the job seeker's results are sent to an employer for review.
TrueAbility is one of San Antonio's home-grown technology companies with roots at Rackspace Hosting.
The four founders claimed the top prize at the San Antonio Startup Weekend in July of 2012 after impressing the judges with their business model and experienced team. Before teaming together for this new business venture, they had 30 years of combined experience hiring talent and were responsible for more than 1000 recruits at Rackspace, an IT hosting company based in San Antonio. They were also finalists in the SXSW Interactive Accelerator last March and placed third among the 500 companies who applied to compete.
By the beginning of 2013, TrueAbility received seed funding with an investment of $750,000 from Rackspace Chairman Graham Weston and Rackspace Co-founders Patrick Condon and Dirk Elmendorf.
In July 2013, TrueAbility closed on $2 million in additional funding led by Austin Ventures, a venture capital firm that helps entrepreneurs build companies in Texas. Part of the additional funding came from the Cloud Power Seed Fund 2013, a special San Antonio fund set up to invest in Techstar Cloud companies. TrueAbility is a graduate of the Techstars Cloud Program, a thematic accelerator that will fund companies focused on cloud computing and cloud infrastructure.
The company's first employee was BJ "Derks" Dierkes. He is the Senior Linux Engineer for TrueAbility. He worked at Rackspace for nine years while the founders were there, so he joined the team already knowing them on a personal and professional level.
"I had a lot of trust with them, so it was a comfortable transition, even though it was a big move for me," Dierkes said. "But, really what sold it for me was that I've been on both sides either hiring someone or being the person interviewed, and I recognized every single time I went through that process that it had to change. For a technical person, it just really didn't make sense to sit in a room and draw something on a board or talk through a résumé."
"You want to be able to prove your skills. Give me a task and I'll show you I can do it, so it was just the perfect fit for me," Dierkes said.
TrueAbility currently has a goal of reaching 100 companies using its product. Since the group set that goal in December, they have added 49 companies.
The staff spent a majority of the past year developing its product in the beta stages, while also working with specific customers, Owen said.
"We've worked with a handful of customers and screened over 3000 candidates that are applying to jobs and we feel very strongly about our product," he said. "We've expanded our skills bank and the types of jobs we can screen and help companies with."
Among the customers TrueAbility currently serves is TeamSnap, a software company based in Boulder, Colorado. H. Wade Minter, Chief Technology Officer at TeamSnap, said running job applicants through TrueAbility has revealed a few surprises during their recruiting process.
"We found some applicants with stellar résumés, but who completely bombed the same evaluations that existing employees were able to pass," he said. "We found people whose paper experience wasn't amazing, but who were able to solve the practical problems with ease. We even uncovered situations like applicants who didn't follow directions or applicants who objected to the very idea of demonstrating skill versus just talking about it, which gave us a heads-up about possible culture fit issues."
One thing True Ability is seeing is that AbilityScreen is making it easier for recruiters to go through a slew of candidates before making a hire.
"(Recruiters) are estimating that they're getting about 15 to 20 per cent more time to go do more proactive recruiting and getting people in the system," Owen said. "They're not spending hours and hours screening every candidate."
This saved time allows more applicants to get a chance, which improves the odds of an employer finding candidates who are perfect for a job opening.
"The typical process is they go and find 50 candidates that they think might have the skills for the job and then they'll spend the next two or three weeks screening those people, spending thirty minutes on the phone with each of them to see if they have the skills for the job," Owen said. "People they may have not called before because they didn't have time, they'll go ahead and send them the True Ability assessment. That's giving these IT pros a chance to prove themselves."
Dirk Elmendorf, co-founder of Rackspace, is also an advisor for TrueAbility. He said he has seen many people try to attack the problems with traditional recruiting, but they are often more concerned with what happens in the interview room than the process it took to get those applicants there.
"The technical market is an area of growth for the economy," Elmendorf said. "As a result, it is sucking people in to apply for jobs they are not really qualified for. The real opportunity is to have an objective way to filter people based on their actual skills, not just what acronyms they put on their résumé to please résumé reviewers. That is what makes TrueAbility so exciting to me."
Elmendorf said TrueAbility is the perfect team to have developed a product that assists IT recruiters in searching for job candidates.
"A lot of times when I talk to startups that are working on disrupting an industry, it turns out that they don't know very much about the industry they have targeted," he said. "Luke and his team have a ton of experience making technical hires for Rackspace. They got to see all the problems firsthand. That experience in the trenches has really helped them understand what is needed to help people make better hiring decisions."
(Editor's note: this article originally appeared in Silicon Hills News' first print publication, distributed at SXSW Interactive)