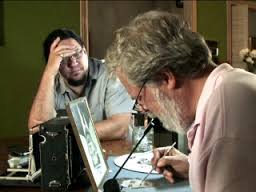 Tim Jenison will be the featured speaker at Startup Grind San Antonio at noon on March 25th at Geekdom in downtown San Antonio.
Jenison is the founder of NewTek, a video graphics software and hardware company. He is an inventor, entrepreneur and now artist and filmmaker, in San Antonio.
Jenison is the star of the documentary, Tim's Vermeer, produced by his friends Penn Jillette and Teller. It documents his nearly six-year long obsession to prove a link between technology and art.
Jenison developed a theory in 2008 that the 17th century Dutch painter Johannes Vermeer, who was known for his use of light and realistic paintings with photographic qualities, had used a camera obscura and a comparator mirror to create his paintings. He later revised his theory to involve a concave mirror and comparator mirror. In the hour and twenty-minute documentary, Jenison re-creates Vermeer's painting The Music Lesson using those tools.
Jenison, who didn't consider himself an artist, travelled the world to do research on Vermeer. And he eventually recreated a room from Vermeer's house in a warehouse on the outskirts of San Antonio. He spent a year there recreating the room, its furnishings, textiles and more and then to paint The Music Lesson. He also had to find materials to create the paints that Vermeer used.
At one point in the documentary, Jenison admits he would quit if the cameras weren't rolling and holding him accountable.
In the end, he paints the Music Lesson and he's 95 percent sure that Vermeer used similar tools in his paintings.
The documentary is currently playing in Austin and San Antonio. It is well worth seeing.
And if you're able to attend Startup Grind San Antonio Tuesday at Geekdom, you can meet Jenison in person and ask him questions about NewTek or Tim's Vermeer. You can get your ticket, which includes lunch, here.