By SUSAN LAHEY
Reporter with Silicon Hills News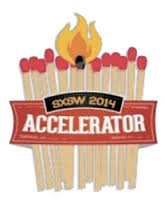 So how out of 500 applicants for Accelerator, does Chris Valentine of SXSW choose the 48 companies (and their alternates) who will have the chance to pitch?
This year, for example, contestants came from Ireland and Slovenia, Denmark, Finland, the Netherlands, London, Tel Aviv and all over the United States.
"I spend a lot of time every day looking for interesting companies from around the world," Valentine explains.
If he finds a cool technology, he passes the link onto an intern to check it out further. If some city, like Berlin, starts churning out cool startups, he might offer someone recommended to him in the scene a badge in return for scouting the area for cool startups. He also has the help of a qualifying committee including Ben Dyer, Tony Averbeck, Bart Bohn, Carla Cook, Kyle Cox, Michael Crider, Dean Cruse, Ken Demarest, Laura Kilcrease, Collin Osborn and Chris Treadaway.
"We all know about what's happening in Chile, Brazil, all these countries. But what gets me really excited is that a lot of these companies are taking technologies that we may be developing here and developing them for their cultures. It's like, you may be Uber for India. Facebook is trying to take Russia and they can't because Russia has their own social site like Facebook that makes sense for that culture."
Valentine says he knows a lot of the companies won't be commercial successes in this iteration. One company, for example, makes designer gowns with solar panels on them for phone charging. Considering the small market for designer gowns, much less those with solar panels, the judges believed the application might have been more practical on outdoor gear….or even a tent.
"I hadn't heard of anyone putting a solar panel on clothes," Valentine said. "And here I am," he indicated his smart phone connected into a nearby power strip. "I'm always looking for a place to charge my phone." The company, Pauline Van Dongen, from the Netherlands may have to pivot. But then, Valentine said, This company may or may not be successful. The judges will say 'I love this idea but what about this change.' Maybe she's so far in she can't pivot. Maybe she'll have to fail."
Other Austin companies that made the cut included Op3nvoice, Plum (formerly Ube), EvoSure, Shelfbucks and sonarDesign.
Last year, Valentine said, he had five contestants from outside the U.S. This year he had 15 and he expects that to grow.