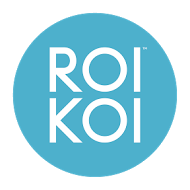 ROIKOI is a new hiring application recently launched in Beta and the company is making a big splash at South by Southwest Interactive.
Austin-based ROIKOI is the signature sponsor of Entrepreneurs Lounge, an invitation-only party aimed at entrepreneurs, investors and insiders, held on the rooftop of Fogo de Chao every night through Tuesday. ROIKOI's giant banner hangs from the rooftop.
The company, founded by Andy Wolfe, an ex-BazaarVoice employee, is backed by a number of successfull local entrepreneurs including Brett Hurt, founder of BazaarVoice and Andrew Busey, serial entrepreneur and mentor. The startup has raised $1 million to date.
ROIKOI is built around a fairly simple question – of everyone you've ever worked with, who would you hire and who would you not? The app is designed like a "game" that allows users to anonymously vote whether they would hire, fire or skip people they have worked with. The app features the top people leaderboards organized by company, geography and industry.
"Only great scores and great people show up. Negative scores and individual votes remain private. Apps like Secret and Whisper have shown that anonymity is key to authenticity, but ROIKOI is able to focus on the positive and use its data for good."
ROIKOI seeks to solve the problem of finding top talent for companies from those who know them best. It seeks to provide better feedback than LinkedIn's endorsements or Klout's system.